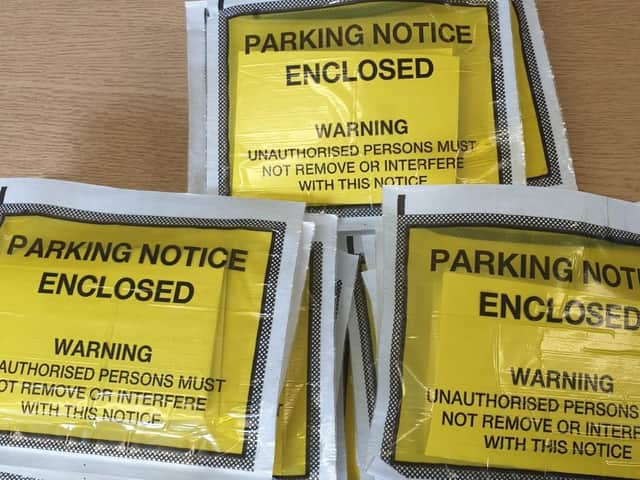 Chorley Police issued parking warnings to 40 parked cars. Photo: Chorley Police
Recent weeks have brought distress and upset to residents at Hoghton Bottoms after hundreds of visitors parked dangerously along Viaduct Road and Chapel Lane.
Some locals and farmers have been unable to leave their properties because of poorly parked cars, forcing families with children to walk along the middle of the road because of blocked pavements.
Angry residents even took matters into their own hands, with images of cars covered in bin bags being shared across social media platforms.
In an online statement by Chorley Police, they announced they had issued approximately 40 vehicles with warnings along Chapel Lane. They indicated that they would be issuing fixed penalty notices going forward.
It read: "We have received multiple reports of parking issues on Chapel Lane, Hoghton. Officers have attended and found a large number of vehicles parked in a manner that is preventing tractors and machinery from being able to use the road and carry out their work.
"A number of vehicles have also been found to be blocking the pavement causing pedestrians to have to walk in the road, around parked vehicles. There needs to be suitable space on the pavement allowing prams and wheelchairs to pass safely.
"On Sunday 31st May, officers placed Warning Notices on approximately 40 vehicles that were found to be blocking the road, pavement or both, and also had the opportunity to speak to drivers and residents. This was done as an educational measure to try and prevent further parking issues. If vehicle obstructions continue, officers will begin to issue Fixed Penalty Notices.
Cars parked irresponsibly at Hoghton Bottoms.
"We appreciate that people wish to visit this area, but please be considerate when parking, to the local residents and farmers who depends on this road for access and their livelihood."
The Lancashire Police had been monitored the area over the weekend to manage crowds of visitors after more reports of irresponsible drivers.
The crackdown on parking was welcomed by locals on Facebook, with one writing: "It's a start, thank you. You need to come again when the sun comes out. It's been horrendous parking over here in the past few weeks, exactly as you described."
Another said: "Thank you. I live up there and it has been a nightmare for the past three weeks. They should be getting fines, but its a start."
Cars were parked along the pavement on Chapel Lane
Jeanette Hindle, a resident of Hoghton Bottoms, has filed reports with the Lancashire Police in recent weeks over concerns that emergency services would not be able to gain access to certain areas.
Along with other locals, she collected bags of litter left by visitors at the area, who were enjoying a day out in the sun last weekend.
She commented: "The last few weeks have been a nightmare for residents. It might seem unimportant to some that a tractor is stuck on a country lane, but that's his time being wasted and his livelihood at stake.
"It's also disruptive to residents who might have important hospital appointments who are stranded because the road is blocked, or God forbid an emergency service vehicle which can't get to the emergency."
Litter collected by residents that had been left by visitors.