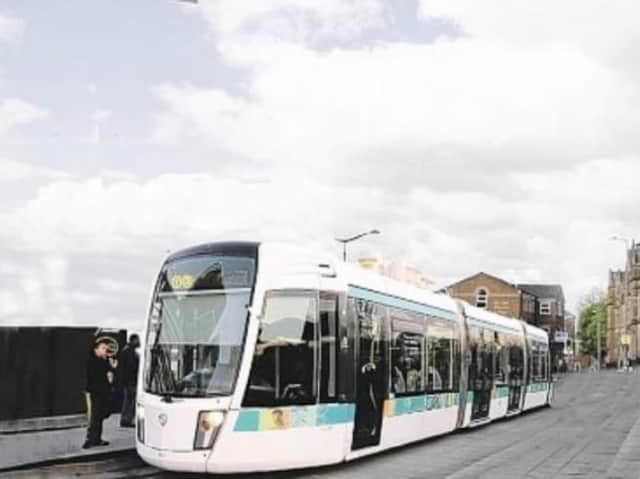 The shape of things to come with a Guild Tramway for Preston?
An application for a short length of track with overhead power lines is expected to be approved by the council's planning committee, setting the wheels in motion for a bigger scheme linking the M6 motorway in Fulwood with the city centre.
And the group which has been pushing for a Guild Tramway for the last 10 years is hopeful it could be on track to revolutionise Preston's transport system, bringing an end to the traffic jams which have blighted the city for years.
"It is an exciting moment," said Lincoln Shields of Preston Trampower. "If tomorrow's meeting gives us the go-ahead then work could start on this pilot scheme by the New Year.
The new pilot tram line will start at the Skeffington Road crossing and run towards the back of the West View Leisure Centre.
"I can't tell you how it would feel to see our rather smart tram, which has been in storage in Blackpool for quite some time, running on a track in Deepdale."
Plans for a demonstration tram track in Preston were first submitted and approved in 2010. A further four applications for the pilot project have been made, with the latest one finally looking like it could signal the start of a grander scheme to bring trams back across the city for the first time since December 1935.
The current application is for the re-opening of a short section of the disused Longridge to Preston line near to Skeffington Road.
Preston Trampower is asking for permission to restore just a few hundred metres of the old rail lines, erect overhead power cables and build a small platform so that demonstration runs can be made along the route to show how a tram system would work.
But the future bigger picture is of a lengthy tram route starting at junction 31A of the M6 near Bluebell Way from a new park and ride station and travelling down into Preston through the Miley Tunnel to the campus of the University of Central Lancashire.
There are also plans for a second track to go through the Friargate/Ringway area to connect with Preston's mainline railway station.
"Once we can get this initial application approved then work can begin on building the pilot track, which is just a few hundred yards long, to demonstrate what a tram system could look like," explained Lincoln Shields.
"If it given the thumbs up tomorrow then I would hope work can start very early in the New Year. We originally applied for a 1,250 metre length of track, but there were land ownership issues, so we have had to reduce it in length.
"But it still means we can go ahead. It is long enough to do a demonstration."
The Preston Trampower group expects to put in a full application for the complete route of a city tramway within the first quarter of next year.
"It's been a long process," added Lincoln. "But things are beginning to come together. This first application will hopefully trigger the bigger application.
"There are a lot of different views about where the route should go in the city centre. Our original intention was to look at going down Fishergate, but we have more or less given up on that idea because of all the work that has been done there (shared space)."
Council officers have recommended that tomorrow's application for a short demonstration tramline should be approved by the planning committee, subject to conditions.