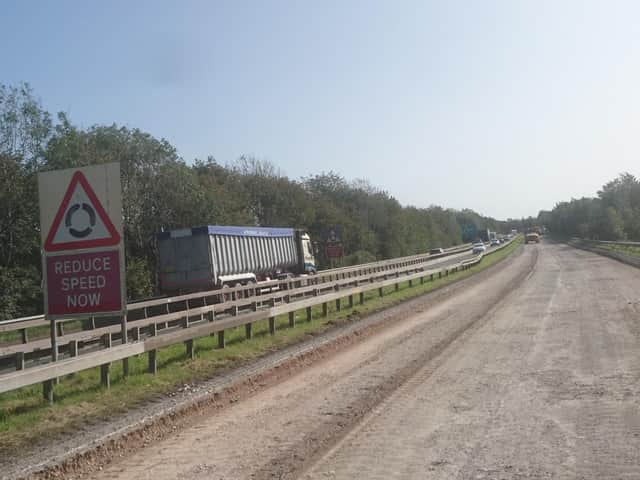 Work has started along the westbound carriageway to reconstruct and resurface the A590 dual carriageway between junction 36 of the M6 and Brettargh Holt roundabout
The following summary of planned new and ongoing roadworks over the coming week is correct as of September 18 but could be subject to change due to weather conditions or unforeseen circumstances.
M6 bridge painting junction 34 to junction 35
The Highways Ageny is carrying out 9pm to 5am overnight maintenance, including re-painting, on two bridges – Lane Ends and Colewood footbridges - between junction 34 and junction 35 of the M6 in an eight-week project which started on August 4. Both the northbound and southbound carriageways will be reduced to one lane including hard shoulder running in each direction at the location of each bridge during the overnight work. A 50mph speed limit will also be in place.
A £7m maintenance project along the A590 between Brettargh Holt junction and the M6 at junction 36 includes improvements at the motorway roundabout itself (including resurfacing and installing new bridge joints). The four-month project started on September 4 and involves traffic management – including closures – at the roundabout at times. The southern roundabout bridge over the M6 is currently closed around the clock until 6am on Thursday, September 24. To help remove this closure the M6 northbound exit slip road will be closed between 8pm and 6am on Wednesday (23 September). Full details – including diversion routes - are available on the project website at: www.highwaysengland.co.uk/programme/a590-maintenance-schemes/
Narrow lanes and a 50mph speed limit are now in place along a short stretch of the motorway where a new junction (junction 2) is being constructed as part of Lancashire County Council's Preston Western Distributor road project.
A585 Windy Harbour to Skippool improvement
Work to deliver a £150m new bypass and junction improvements is now underway. Given a return to near-normal traffic levels along the A585 the Highways Agency has now moved to overnight working where possible. Traffic management for next week - 7pm to 5am - includes:
Monday, September 21 - Garstang Road East - Temporary traffic lights.
Tuesday, September 22 - Mains Lane, from Skippool Filling Station to Shard junction - Temporary traffic lights
Wednesday, September 23 to Friday, September 25 - Garstang New Road (at Windy Harbour junction) Narrow Lanes with traffic cones.
Wednesday, September 23 to Friday, September 25 – Garstang New Road, Eastbound carriageway from Little Singleton to Windy Harbour Junction – Temporary traffic lights.
The work next week includes CCTV surveys and jetting (jetting will only take place between 7pm and 11pm).