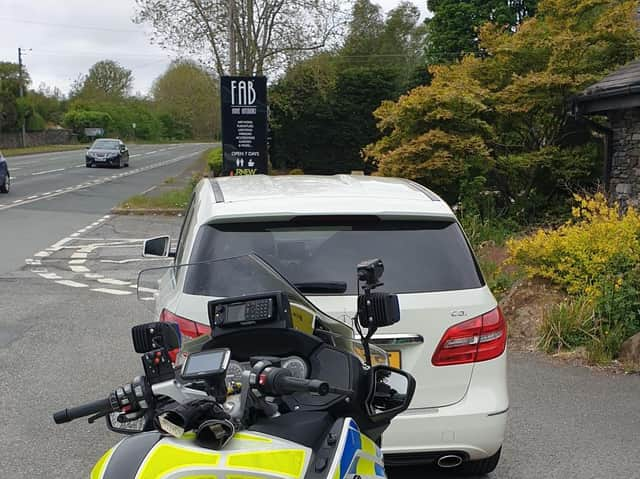 Motorist from Chorley being stopped and fined by Cumbria Police and sent home for trying to visit Lake District in breach of lockdown at the weekend. Photo: @CumbriaRoadsPol
Police issued their photos as tourism chiefs again warned day trippers to stay away from the Cumbria despite government moves to relax the rules on people travelling to exercise.
The head of Cumbria Tourism admitted she was "genuinely surprised" at the announcement by Prime Minister Boris Johnson that people could now drive to places to take exercise.
New guidance issued by the Government states people in England can drive to "outdoor publicly accessible open spaces irrespective of distance but should follow social distancing guidance whilst there."
Motorist from Preston stopped and fined by Cumbria Police and sent home for trying to visit Lake District in breach of lockdown at the weekend Photo: @CumbriaRoadsPol
However, the new rules continue, "You should plan ahead to ensure that, where you are visiting places like National Parks. you have checked that they are open and appropriately prepared for visitors."
Cumbria Police issued 42 fines on Bank Holiday Friday for breaches of the coronavirus lockdown rules, the highest number issued by the force in a single day.
Over the past few weeks officers have been turning around motorists attempting to drive into the Lake District and escorting them back to the M6 motorway.
Managing director of Cumbria Tourism, Gill Haigh, said: "We welcome the government's planned 'roadmap' to recovery and Cumbria Tourism will continue its vigorous efforts to ensure businesses receive the ongoing government support that is absolutely critical.
"Our businesses are suffering greatly - by the end of this month the loss to Cumbria's visitor economy will be £1.45bn - and this situation is not going to change in the short term. The government must work with us to safeguard jobs and the economy of the county.
"However, with Cumbria continuing to have one of the highest incidences of Coronavirus per head of population and a high number of older residents, the safety of local residents must take absolute top priority, along with a collective responsibility to help protect Cumbria's NHS workers.
"We were genuinely surprised by the government announcement regarding travel to destinations for exercise and whilst we await further detail and clarity on this announcement today, and we look forward to seeing our visitors return when the time is right, for now our tourism businesses remain closed and Cumbria Tourism asks for everyone to continue to remain at home.
"At the same time we express our sincere gratitude and thanks to everyone for their resolve and doing the right thing – businesses and visitors. Your continued support remains critical."
Tony Watson, the head of communications at the Lake District national park, tweeted: "Before travelling to the #lakedistrict, please be kind and consider our rural communities.
"There have been four times the deaths in Cumbria than in the whole of Australia. Just because you technically can come, doesn't mean you should."