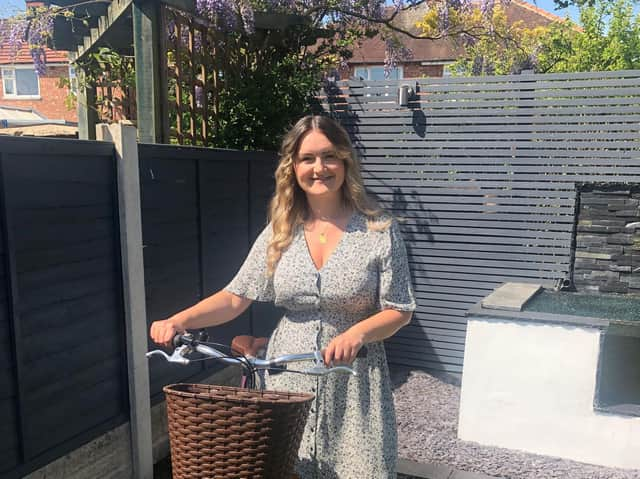 Jessica uses her bike to see her sister in Lytham
Jessica Scott, 32, wants families and cyclists to have a safer route to coastal towns like Blackpool and Lytham when taking the journey on their bikes.
After cycling to see her sister in Lytham, Jessica takes her car for part of the trip because she doesn't feel safe driving along the dual carriageway, which has speed limits of 50mph
"It doesn't feel safe cycling along that road. It is so dangerous and so many other cyclists I speak to have said the same," said Jessica.
"It is a real shame because the council could easily link Preston with the Fylde coast with the use of a proper and safe cycle lane.
"Along the A584, there is an area of rubble and then a large footpath that is hardly used. If this was developed into a cycle lane, it would mean me and others could feel safe."
Cycling around Preston is encouraged with routes such as the Guild Wheel, a 21 mile circular route around the city.
Jessica believes that a safer cycling route through Freckleton would encourage more people to use their bikes and be less fearful of the busy roads.
The area of the A584 that is considered 'dangerous' by cyclists.
Once the bike lane reaches Freckleton, it would connect with the already existing path, which provides a safer route extending along the coast to Cleveleys.
Last year, Lancashire County Council unveiled £0.5m worth of safety upgrades for bikers using roads across the region. Part of the safety plans introduced by County Hall protected cyclists on the western approach to the Freckleton roundabout along the busy A584, with road markings introduced to prevent motorists drifting into the bike lane.
The busy dual carriageway was also marked as one of the most dangerous roads in Lancashire, with 37 injuries and a fatality, to cyclists between 2015 and 2017.
Jessica is now eager for the council to consider her plans for a safer cycle route, after a recent fall on her bike had left her injured.
Jessica uses her bike to see her sister in Lytham.
"When I have mentioned the petition to people they all think it's a great idea, as the current road conditions just put people off cycling," she said.
"Even if you aren't fit, it is surprising how far you can end up riding on your bike. It is such a shame that stretch of road isn't used because local businesses along the route would also benefit."
The petition is active on the Lancashire County Council e-Petitions page until November 5. More information can be found at http://council.lancashire.gov.uk/mgEPetitionDisplay.aspx?Id=252.