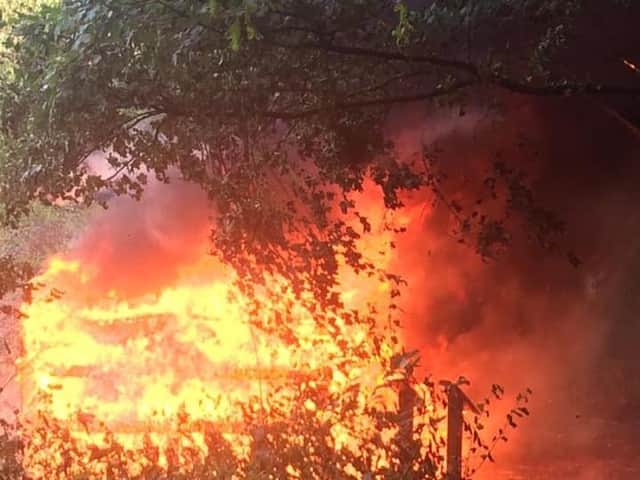 The fire at the viewing platform overlooking the duck pond in Walton Park, Lostock Hall yesterday afternoon (June 1). Pic credit: Chris Handley
Fire crews rushed to the park after a viewing platform overlooking the duck pond was set alight at 4.20pm yesterday (June 1).
An initial investigation suggests that an accelerant had been poured onto an interpretation board before spreading across wooden decking.
Thick, black smoke could been seen billowing above the park from miles around.
The fire had been started deliberately with accelerant and is under investigation. Pic credit: Chris Handley
The scorched viewing platform, willow screening and interpretation boards had been funded by local volunteer group 'The Friends of Walton Park'.
A wildlife shelter and a birdhouse, which had been home to a nest of blue tits, has also been destroyed.
No injuries have been reported.
A fire service spokesman said: "One fire engine from Chorley was called at 4.20pm and they used one hose reel to extinguish the fire."
The aftermath of the fire in Walton Park this morning (June 2). Pic credit: Irene Cookson
Lancashire Police has been approached for comment.
Earlier that day, Lancashire Fire and Rescue Service said it had reported video footage of youths deliberately starting fires in Worden Park, Leyland.
The footage is being investigated by police.
An aerial view of the fire in Walton Park, Lostock Hall yesterday afternoon (June 2). Pic credit: James Mattison