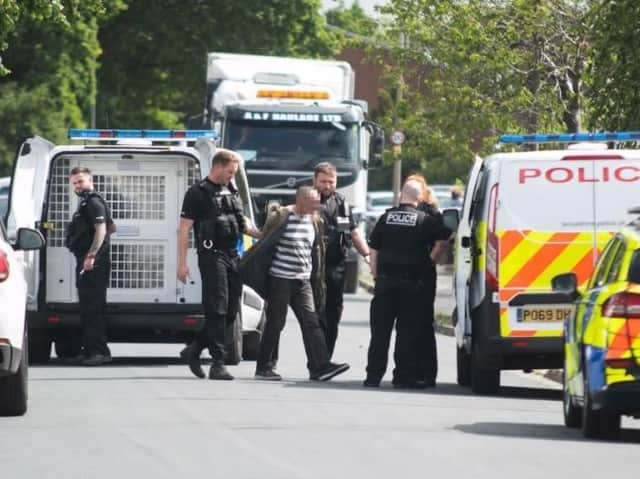 A man is led away in handcuffs after the stand-off ended.
Neighbours who watched the stand-off between the 54-year-old and officers, claimed later a troublesome gang of teenagers in Ingol could have sparked the incident.
The drama began around 8am in Dovedale Avenue and only ended when a trained negotiator persuaded the man to put down his weapons and surrender to officers.
A woman, said to be the man's partner, had earlier left the property unharmed.
Armed police stand down after the three-hour siege.
After the siege ended residents in the street said the man had been having trouble with a group of youths locally and was scared for his own safety.
One said: "He wouldn't hurt anyone. I think he was frightened by threats from the teenagers and reacted in the way he did.
"His partner was never in danger and I don't think the police were either. He must have just snapped.
"It had started the day before when he called the police about the gang and, although they came, they didn't do anything.
A huge police presence at the incident in Dovedale Avenue.
"Then this morning it just flared up again and I think he just picked up the weapons to protect himself."
Paramedics examined the man in a police van before he was led away in handcuffs.
Police had raced to the street, off Woodplumpton Road, at breakfast-time after reports a man had been spotted walking down the road with a sword.
He was seen to enter the ground floor flat and officers sealed off Dovedale Avenue at both ends.
At least 15 police vehicles and two ambulances were at the scene. In addition to firearms officers, police in full riot gear and carrying shields moved into place at either side of the two-storey block of flats.
Crowds gathered at either end of the road but were kept up to 200-metres from the flat by the police cordon.
At around 11am the man, wearing a parka style coat, a striped top and jeans, was led out handcuffed and placed in a police van where paramedics carried out health checks. He was then driven off to Preston Police Station.
Later a police spokesman said: "A 54-year-old man from Preston has been arrested on suspicion of affray and is in custody."