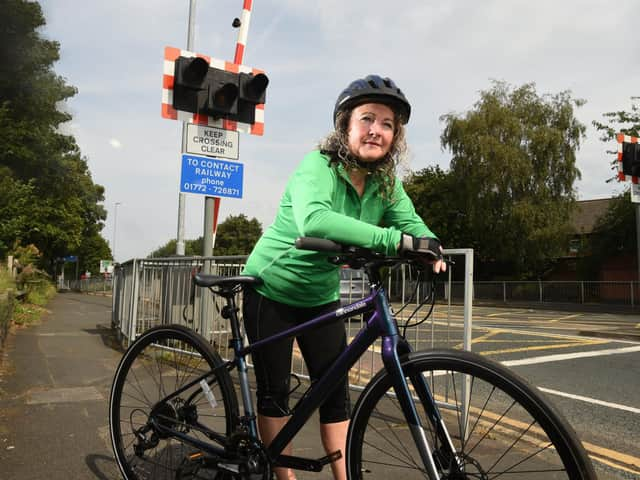 Pam on her bike at the Strand Road rail crossing where she had an accident Photos: NEIL CROSS
The Preston barber was sent crashing into the road when her front wheel caught in a train track on Strand Road, leaving her with a broken nose, swollen face, two black eyes and a lump on her head.
The spill also left her with a severe bout of concussion, a shattered cycling helmet and her brand new £800 bike twisted and bent.
"I was scared of going out cycling after that," said Pamela. "It's really affected me. Luckily I had my helmet on. That saved me from much worse. I could have died.
A deep groove which unseated Pam on Strand Road
"We got married a couple of weeks ago after lockdown was lifted and fortunately my injuries had healed."
Now Pamela, 57, and her new husband Luigi are campaigning to have the road made safer and for more signs to warn cyclists of the potential danger. They have written to Lancashire County Council, as the highways authority, Network Rail and the city's MP Sir Mark Hendrick
"Network Rail said it wasn't their responsibility," said Luigi. "They said that section of track belongs to the steam railway.
"The county council got back to me and said they were looking at it with a view to doing something, but because of the lockdown they haven't been able to.
"But to be honest that crossing has been like that for years. I started work at BAC on Strand Road 50 years ago and it was like that back then.
"There is normal signage that you get at a level crossing, but nothing to warn cyclists of the danger of getting a wheel stuck in the tracks. Something needs to be done about this."
Pam is slowly getting back in the saddle, although she isn't back to doing the Guild Wheel three times a week as before.
"We got married a couple of weeks ago after lockdown was lifted and fortunately my injuries had healed. I looked a right mess for quite a while after the crash. My black eyes didn't go for about a month and I had a lump on my head for two months.
"I took my damaged bike back to the shop to get it repaired and the man there said he has had loads of cyclists coming in saying they have come off at that same spot."
Pam took her bike to be repaired at Bill Nickson Cycles on Towngate, Leyland, and discovered the railway line is a common accident-prone spot for cyclists.
Bill Nickson, shop owner, said: "I've personally seen loads fall of there. Last year, one lady landed on top of her bike and it went through her main artery and she almost died. It is because of the angle that people hit the train tracks at. There should be a sign to warn people."
County Hall told the Post maintenance of the rail crossing on Strand Road was the responsibility of Ribble Steam Railway. The railway could not be reached for comment.