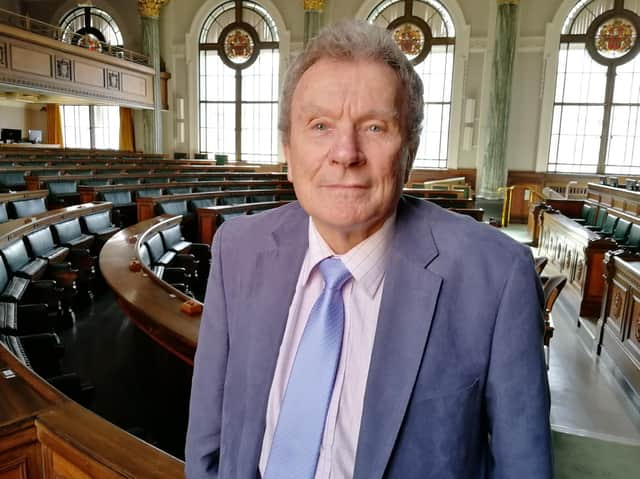 Lancashire County Council leader Geoff Driver
A letter written by the Conservative leader of Lancashire County Council calling on the government to "fully reimburse" local authorities for the cost of the coronavirus crisis has been quoted in the Commons – by the leader of the Labour Party.
Speaking during Prime Minister's Questions, Sir Kier Starmer produced the correspondence in which County Cllr Driver – writing on behalf of all 15 council leaders in Lancashire – asked for an assurance from Communities Secretary Robert Jenrick that local government would not be left worse off.
"These are the Prime Minister's council leaders – he must have known about this for months, why has he been so slow to act?" the opposition leader asked.
Boris Johnson rejected the charge of tardiness and outlined £3.2bn in additional support provided for local authorities since March – along with £600m specifically for social care.
Asked whether he was comfortable being used by the Labour frontbench to taunt to the PM, County Cllr Driver said: "It's not a question of being happy or not – it's factually accurate.
"It wasn't a letter having a go – it was pointing out that we're really grateful for the support we're being given, but asking government to be aware that it doesn't even come close to the extra costs we're going to incur."
The letter – which was written over a month ago – expresses "deep disappointment" that the local government system in Lancashire as a whole received £6m less in the second tranche of emergency funding handed out at the end of April than it did the first back in March. This was largely due to the a change in the way it was calculated – moving from a formula which assesses the relative needs of an area to one based purely on population.
However, the change had a disproportionate effect on the standalone councils in Blackpool and Blackburn and particularly on County Hall – which saw its grant drop from £35m to £21m between the first and second waves of funding. The county council forecasts that its final coronavirus bill will come in at £104m.
District councils largely saw significant increases, with many in Lancashire receiving more than £1m in April, compared to tens of thousands of pounds a month earlier.
But councils across the country are now beginning to press the government for a commitment to reimburse them not just for the direct costs of Covid – but the income lost as a result of it. There are fears that reduced council tax and business rates payments – as a result of potential unemployment and the collapse of firms – will hit all levels of local government hard in the near future.
County councils have been told not to include on official government returns any estimated loss of income from their shares of council tax and business rates – because these are being reported by the district and city councils which collect the cash before it is redistributed.
The lion's share of business rates are retained by the lower-tier authorities themselves, but the vast majority of council tax is transferred to County Hall for major services such as adult social care.
County Cllr Driver said that the reporting requirement "gives a really false impression" of the scale of the county council's challenge, but added: "We obviously want the government to reimburse us fully, but in the meantime, we have sufficient resources to keep the ship afloat."
Local government minister Simon Clarke said earlier this week that the government is drawing up a "comprehensive plan to ensure financial sustainability of councils this financial year".