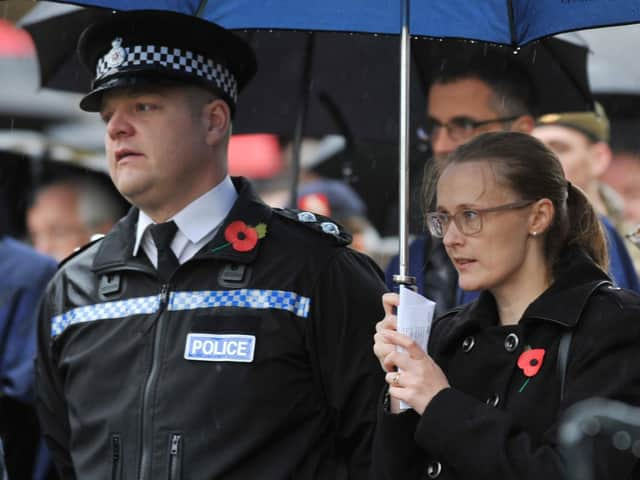 Cat Smith at the Lancaster Remembrance Day service, marking 100 years since the end of the First World War
The first time Cat Smith spoke in the House of Commons was during David Cameron's Prime Minister Questions, only one week after she was elected MP for Lancaster and Fleetwood.
She says: "My first impression of the House of Commons was that it seemed smaller than I imagined and it became really loud really quickly – the noise is incredible when the chamber is full.
"My first PMQs were during my first week as an MP.
Cat Smith with her son Elijah and husband Ben
"I asked David Cameron when he expected the UK to regain its triple A credit rating.
"I couldn't hear his response because the House was so loud, and I had to go back and watch the streaming later."
First elected in 2015, she held her seat for Labour during the latest General Election, scooping 21,184 votes.
Before entering Parliament, she worked for Jeremy Corbyn and as a policy officer for the British Association of Social Workers, but she thinks a lot of her drive to become involved in politics comes from her "very political family".
Cat Smith, MP for Lancaster and Fleetwood
Her mother, a methodist, often took her to church with her and that's where Cat first became aware of global injustice.
She explains: "I joined the Labour Party when I was 19 – I was a student at Lancaster University and I had some friends who were members of the party.
"They said 'you should join', so I did.
"I started to understand that being an MP means being a representative of the community, and that there is no need for any academic qualification: to do this job, you need to be the best person to represent your community and to get their voice heard."
In her current role, she is also shadow minister for voter engagement and youth affairs, and supervises voting systems, implementing ways for more voters to participate in the process.
Ms Smith was 29 years old when she was elected, and said it wasn't unusual for her to receive comments about her age.
She says: "When I started, I received more comments about the fact that I was too young to be an MP, rather than about the fact that I was a woman.
"To this day, people still make comments about my age."
After nearly five years in office, she said that the best part of her job is something she likes to call 'the happy folder.'
She adds: "It's where I keep all the good news that comes from my constituents.
"On top of it right now there's an email from a woman who was a victim of domestic violence, and who we've managed to help.
"Some days are hard, but then I think about all the good things in the 'happy folder' and I remember what this job is really about."
She has spoken up many times about the abuse received online because of her public position.
The abuse has also involved her family and even her first child, Elijah: during a debate in Parliament, she revealed a "shocking" comment she received online, which wished for the death of her child.
But she believes that the job she is doing for the community is much more important than any negative comment online.
She explains: "The emails in my 'happy folder' are many more than the horrible messages I receive on social media."
In the summer of 2018, while she was an MP, Ms Smith gave birth to Elijah: she thinks there were many positive changes for women's rights in Parliament since then.
"A lot has changed since I was pregnant while being an MP," she explains, "there was no proxy vote and I still travelled to London while I was heavily pregnant.
"Right now, I would say I have the same struggles as any other working parent.
"The worst thing about my job is probably not being able to go back home to my family every night, since I spend most of my working week in London."
There was also a shift in women representation in politics and especially in the Labour party, as shown by the number of women running for the Party Leadership Election.
She says: "In the December election Labour elected a record of female MPs, and there are two women running for the Labour Leadership election - that's really positive, and the fact that there wasn't so much noise about it means that we accept that politics is a woman's job too.
"I think this general acceptance is a sign of progress.
"Of course, I hope we elect a woman as the next leader of the party, but the selection of candidates is very strong and in the end, we need the leader to be the best person to guide the party, whether they are a man or a woman."
The MP believes that diversity in Parliament is indeed a crucial aspect in decision making.
She explains: "Now we should really be talking about the fact that disabled people are not properly represented in Parliament.
"Or if we have enough MPs with a working class background or a different gender identity."
Tackling climate change is at the heart of Labour's manifesto, and Ms Smith agrees that, with Brexit now almost out of the way, the party should focus on bigger issues.
She adds: "With Brexit happening we really need to think about how to tackle issues that have no borders.
"And climate change knows no borders, it's not going to stop because we are leaving the EU."
In her role as a shadow minister, Ms Smith also looks after funding for youth services, ensuring young people are safe, have someone to look after them, somewhere to go, and the possibility to learn new skills.
To young people hoping to get into politics, she says: "Don't think about politics as a career.
"It's about public service and putting the needs of your community first."