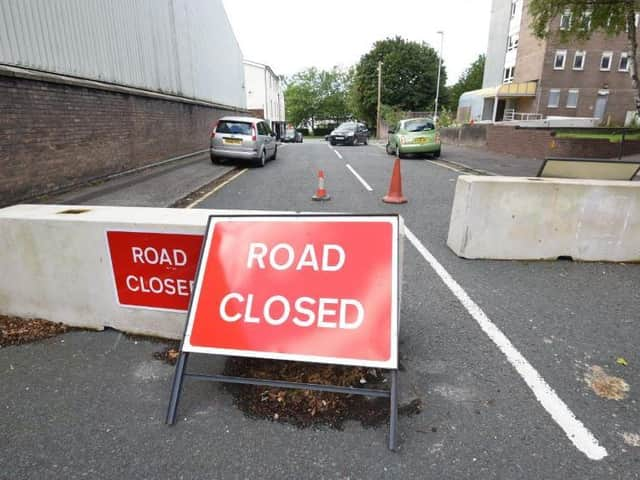 Lancashire County Council have introduced pop up lanes and road closures to encourage cycling and walking in lockdown
The pop-up lane in Riversway attracted anger from motorists who said it was slowing down commuting times, while attracting few bike users.
The lanes had been introduced along the A583 Riversway and Watery Lane between Nelson Way and Strand Road as an emergency temporary measure, to encourage people to walk and cycle.
Local councillors reported a "crescendo" of complaints about the cycle lane, with claims that the lanes were not being used by cyclists.
The pop-up lane in Riversway attracted anger from motorists who said it was not used by many cyclists
It seems the calls to have them removed, as school traffic recommences, have been heard, as the council now plans to axe the temporary lane from September 10.
These 'pop-up' cycle lanes have been introduced in a number of places across Preston and use barriers and bollards to separate cyclists from other traffic.
County Councillor Keith Iddon, cabinet member for highways and transport, said: "The coronavirus has resulted in many changes to our daily lives, with one of them being restrictions on public transport to prevent the spread of the virus, and advice to avoid using public transport if you can.
"We've been working to respond to this by doing what we can to improve alternative ways to travel, using funding available from the government for measures to make it easier for people to cycle.
"We've introduced pop-up cycle lanes in a number of locations around the county, often on busy roads where we felt cyclists may benefit from more separation from traffic, and we've been monitoring how well they've been used, along with their impact on other road users.
"Our data shows that many of them are providing a benefit, however the pop-up lane on Riversway in Preston is not being used by enough cyclists at busy times to justify keeping it in, when balanced against the impact it is having on traffic, particularly as our roads are becoming busier again.
"We'll be keeping all of our Covid travel measures under review as we continue to respond to the need to keep the virus under control, and make any further changes to our roads and transport systems which may be needed.
"With new national restrictions beginning next week it's clear we all need to play our part in keeping ourselves and others safe from the virus. I'd urge people to consider cycling and walking if they can to reduce the pressure on public transport, and help to reduce the potential for congestion which could occur if too many people make additional journeys by car."
Other temporary closures, such as that of Adelaide Street, Preston, has continued to cause disruption on London Road, a busy route for city centre commuters.
Stephen Turton, co-owner of D Sandersons Bookbinders, Primrose Hill, told The Post yesterday that the new temporary road closures brought in by Lancashire County Council are 'pointless' and are preventing important deliveries being made to his business.
He said: "It is a nightmare. I can't get deliveries either because we normally rely on the road for them. Now big lorries turn up the road because they don't know it is closed and end up getting stuck and can't turn back around.
"I can't understand why these road closures have been introduced because it hasn't helped our business after Covid. The council say that they are to help with social distancing for cyclists, but you could sit there all day and only see a handful of cyclists use the road."
A full list of the council's road closures and developments can be found HERE.