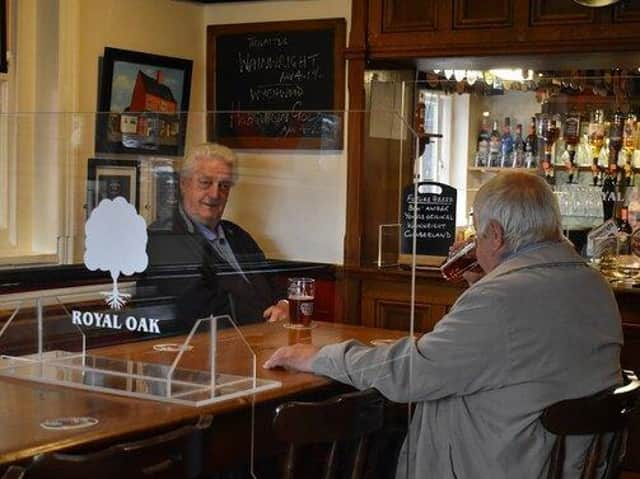 Things look very different for many businesses post-lockdown
Lockdown measures have been relaxed in stages since the beginning of June, with each sector given detailed government guidance about what is expected of them to keep staff and customers safe.
It emerged last week that 10 businesses in Blackpool have been ordered to shut – either for reopening before they were permitted or for flouting the new guidance once they threw open their doors.
However, Preston, Chorley and South Ribble councils told the Local Democracy Reporting Service that no such action had been taken against outlets operating in their areas.
Advice for businesses pulling up the shutters for the first time in months has been broken down into 14 specific sectors.
While the individual recommendations for keeping different premises Covid-safe have not been put into law, ignoring them could see businesses subject to enforcement notices issued by local environmental health teams. That could be as result of being deemed to have breached the general obligation under health and safety legislation to go as far as "reasonably practicable" to ensure that individuals are not exposed to risk.
Possible measures range from improvement notices – outlining what a business must do to rectify a problem – to prohibition notices, which could see them temporarily limited in their activities or even closed.
Preston City Council's deputy leader Peter Moss said that the authority had been taking a supportive approach to help businesses reopen safely.
"We have had to offer advice to some companies about social distancing in the office or wherever they may be operating.
"But these people have had to survive through some of the toughest professional and personal challenges that they will have ever faced.
"They have lost revenue and got new policies that they have to adhere to – that's why we have tried to support them rather than come down heavy-handed," Cllr Moss said.
South Ribble Borough Council's cabinet member for environment, Sue Jones, said that compliance with Covid-secure measures in the district had been good – and that enforcement notices would not be served "lightly".
However, she warned that "blatant disregard" of the guidance would lead to action.
"We went through all the government guidance with businesses to make sure they were clear about the measures they needed to introduce to reopen as safely as possible – and this has proved effective.
"We should also be mindful that these are still early days – it's only been 20 days since the hospitality sector has been allowed to reopen – and it has been a steep learning curve for everyone involved.
"The council would like to thank all South Ribble businesses for cooperating with the new rules and we pay tribute to their swift implementation of new safety measures.
"Of the few complaints we have received in relation to a small number of premises, the businesses in question have responded positively with genuine cooperation and again, we thank them for this.
"It has obviously been very encouraging for the South Ribble economy to see businesses make a return, and we welcome the fact that pubs, bars and restaurants can get back to normal – but only where they have made every effort to safeguard their customers, allow for social distancing, encourage track and trace, and make their premises safe for both staff and customers, Cllr Jones added.
Chorley Council said that it had also been impressed with the level of compliance from businesses in the borough.
Alistair Morwood, cabinet member for public protection said: "We're pleased to say that, so far, we haven't had to issue any improvement notices to businesses in the Chorley Borough in relation to non-compliance with COVID-19 control measures.
"We have actively engaged with businesses, providing them with the government guidance for working safely during coronavirus, plus other important information and resources prior to them reopening which we really think has helped.
"Our teams have been present in Chorley to offer advice and support to businesses as they have been reopening.
"Well done to all the businesses that have reopened during these challenging times and are having to work with new measures in place to help keep visitors safe," Cllr Morwood added.
The latest round of lockdown-lifting measures comes on Saturday (1st August), when bowling alleys, casinos and exhibition centres are amongst the venues allowed to reopen.