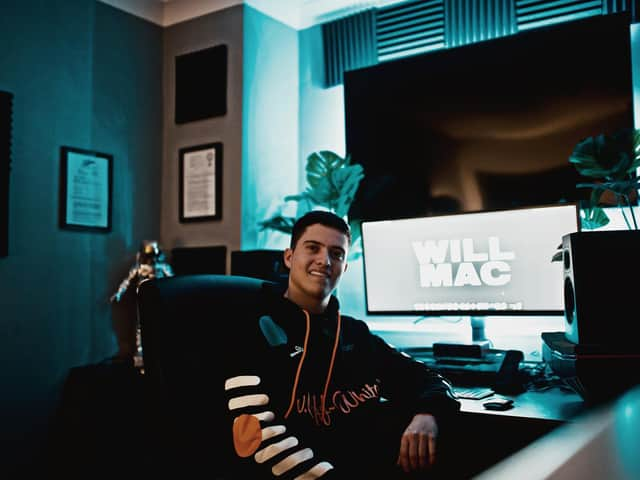 DJ Will Mac, 22, photos: Eddy Highton/ Marc De Groot
The DJ hopes that sharing his journey so far will inspire others to 'follow their dreams' and 'not be afraid to do something different' - sage advice at a time of high unemployment.
Will Mac, aka William McMullin, 22, has DJ'ed since he was 14-years-old and a student at Bishop Rawstorne Church of England Academy, Leyland.
He was a resident DJ at O Beach, Ibiza last summer for House in Paradise, is co-owner of SOKO Events, and works as an international producer and media creator.
Will says he continued to pursue a career in the industry despite teasing from classmates.
"At first, when I was at school, a lot of people were saying I was never going to go far with this goal," he said, with the exception of his closest friends.
"The normal thing to do in the UK is to go to school, go to college, then go to university and get a degree and a house but it's not always about just following this line.
"There's not a specific moment I decided to become a DJ, I just woke up and decided to give it a go to see what it was like. It was a bit of a revelation, if you wish.
"It all kicked off from there as I started to get work and meet new people."
At 18 Will decided to move to Ibiza even though he had little money saved up.
"I didn't put too much thought into it really - I upped sticks, packed all of my stuff, and moved to Ibiza.
"I started by spending a month there just to find my feet but ended up staying through until October that season."
He says his friends and his whole family including his mother, Charlotte White, stepfather, Gordon White, father, Ian McMullin, sister, Olivia McMullin, and partner Xènia Batet Ogea have supported him throughout his career.
"All of them have been behind me," Will said, "They just saw my passion for it and put that first and obviously made sure I was keeping enough money coming in!
"My mum said to me: 'take the risk and, if nothing happens, you can come home and try something else'."
Despite all he has achieved at such a young age, the DJ says that getting started in the industry has been 'far from easy'.
"From the age of 14 to 22 it was pure graft really; networking all the time, going out to places like Ibiza, and risking everything," he said.
"Any spare time that I've had in the past eight years has always been dedicated and committed to progressing my career."
Will Mac's advice to anyone looking to make a career change is to 'stick at it' and to have a job on the side.
While he attempted to get his career off the ground he held down jobs at a butchers, in retail and spent time as a ticket seller.
Ultimately he decided to put these jobs on the line when opportunities arose abroad.
"I had to quit my jobs in the UK and just move out to Ibiza," he said, "Three years ago I got a new residency in Austria and I would fly there once a month to play for a big club night event called 'Powder'."
Will says that working in social media and media creation in addition to becoming a DJ is the 'best decision' he ever made because it allows him to spend time networking in clubs whilst earning money.
The DJ's residencies abroad have had to be put on hold in the midst of international travel restrictions and UK nightclubs have remained closed since the first national lockdown. They are not expected to reopen until June 21 at the earliest.
"A normal year would consist of six months in Ibiza in the summer then a return to the UK. I would split my time between Austria and the UK through winter.
"Obviously, this winter, that hasn't been the case but normally I would get the treat of flying out there once a month."
Will says that having supportive mentors and co-workers has made all the difference to him. He says that his mentor and manager, Stu McLaren has 'always ensured' he 'stays on track' with his goals. Will also gave credit to his SOKO Events partner Damon Hess and fellow performer Zach Tellett.
"In simple terms, people should stick to whatever they want to do and, if they do want to go into a new career, just persevere for as long as it takes and graft on the sideline to keep enough money coming in," Will said.