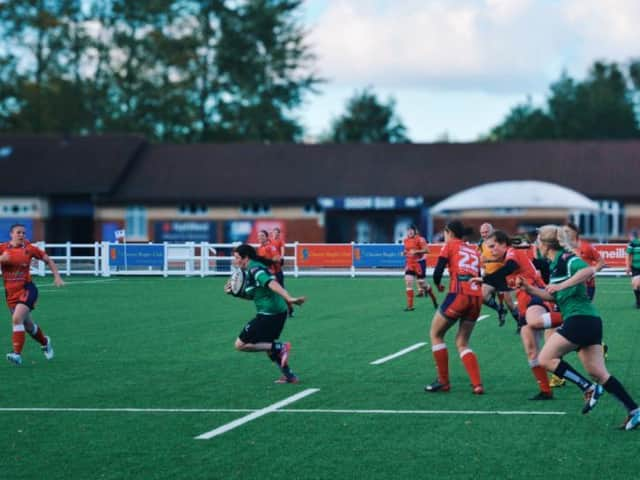 The Preston Women's Rugby team playing in season.
The fundraiser will see members of the sports club take part in different exercises from their own homes, with their target aiming to be hit by the end of May.
The women's rugby team works in association with the Preston Grasshoppers Rugby Club, which was founded in 1869, the same amount of miles aiming to be completed by the sports group.
Victoria Kenyon, a member of the women's team said they hope to keep active and use their Just Giving page to raise more than their initial target of £250.
The women's rugby team playing last season.
"With us being off season, it is important that the girls keep active. We thought, why not up our speed and time?" said Victoria, 20.
"Our season was cut short by the coronavirus pandemic, so it was important that we used the time to help those who need it.
"People are either running or walking and even using indoor bikes so we aren't risking anyone's health."
Some of the players for the Preston Women's Rugby Team are key workers, with their teammates eager to show their appreciation for those working on the front line.
Money raised through their Just Giving page will be donated to the Association of NHS charities after they hit their target, of almost 2,000 miles, in May.
Team Captain Emma Pooley described the team as a family, saying they are 'supporting fellow members who work on the front line'.
"One of the biggest things about us, is that we are one team and also a family. Even with us being off season, we have been keeping in contact and looking out for each other," she said.
"We have a range of key workers who play for us, from medical students and nurses, to teachers and supermarket workers. We want them to know that we support them and are grateful for all their work."
The team will be using mobile phone app 'Strava' to track each other's progress and calculate each mile closer to their goal.
To find out more about the fundraiser and donate to the cause, visit: https://www.justgiving.com/fundraising/hoppers-women