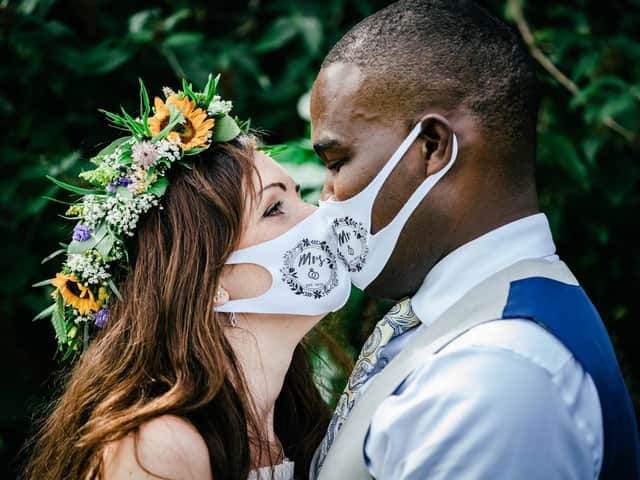 A wedding kiss with a difference - Hollie and Malcolm model the bespoke face masks guests wore at their wedding Photo: Tiffany LS Photography
The new Mr and Mrs Malcolm and Hollie Kandulu from Cottam, north of Preston,were joined in matrimony at St Anne's church, Woodplumpton, last week - but only after the original date was postponed due to the Covid-19 pandemic and the replacement date was brought forward, again due to the pandemic.
The hastily rearranged ceremony took place with a reduced guest limit of 28 and vicar, Canon Ron Greenall conducted the ceremony wearing a face visor. Guests wore specially customised face masks. Afterwards the couple and guests enjoyed a socially distanced picnic with their guests on the village green.
They were able to share their joy with other friends and family, including Malcolm's mother and relatives in Malawi, by streaming the ceremony via Facebook Live. The ceremony had more than 300 views by invited "guests".
Just got married - Hollie and Malcolm Kandulu Photo: Tiffany LS Photography
Teacher Hollie,30, whose maiden name was Slater, said:"It was amazing. We were thinking is it never going to happen. Everyone messaged us to say how much they had enjoyed it and it was a privilege to watch ... it made all the heartache worth it."
Malcolm, 32, a project support officer at Blackpool Council, said: "We went from July to October then August. The first one was during full lockdown and the reception wasn't going to happen. Then we moved to October, hoping everything would have changed by then, then Preston had the issue. It was so disappointing and everything kept getting changed. At the end of the day we just wanted to start our lives (together) officially and start our family."
As it was the new date - August 18, coincided with the third anniversary of the date they met. Both were students at Staffordshire University. Malcolm from London, was studying business economics and Hollie surface pattern design when they were introduced by a mutual friend.
Hollie's mum had been saving dried rose petals for three years for confetti.
Mr and Mrs at last - smiles from Hollie and Malcolm as they leave St Anne's church, Woodplumpton and are showered with the rose petal confetti made by Hollie's mum Photo: Tiffany LS Photography
Malcolm added: "It all was really beautiful. It was just a romantic Woodplumpton village wedding. It was quite intimate. I think that made it a lot more significant for us."
Hollie, a former pupil of Broughton High and Newman College, Preston who now teaches at St Andrew's school. Ashton, has top tips for other couples marrying during the pandemic. She said: "Just make it simple and just remember why you are doing it - for each other. You want to make a memory. We were really worried we would just get married in a quick service with 10 people and then go home and feel flat about it. But it was just brilliant. The church really pulled out all the stops. Keep going. It's worth it in the end."
The icing on the cake was that one of Hollie's brother Daniel and sister law who had relocated from Boston and been in quarantine until August 15 were also able to attend the wedding.
After their impromptu reception, when sunshine replaced earlier rain, the couple swopped shoes for wellingtons and walked home.
For Canon Ron Greenall, pictured in his "spaceman visor" with the happy couple and witness, this was the first wedding he had conducted during the pandemic. Photo: Tiffany LS Photography
Canon Ron said: "It was the first wedding I've done during Covid and I looked like a spaceman but it worked out very well."
The couple honeymooned in South Wales and the West Country. They plan to have a larger celebration at their chosen reception venue, Bartle Hall and a blessing, once Covid-19 restrictions allow. Originally some 200 guests had been expected at their wedding.
* Photos by Tiffany Ascroft of Tiffany LS Photography, Leyland.
The socially distanced picnic celebration Photo: Tiffany LS Photography
Wedding joy for Hollie and Malcolm, pictured outside St Anne's church, Woodplumpton Photo: Tiffany LS Photography
A fabulous reception .... despite the change of plan Photo: Tiffany LS Photography
Hollie and Malcolm Kandulu modelling the bespoke face masks Photo: Tiffany LS Photography