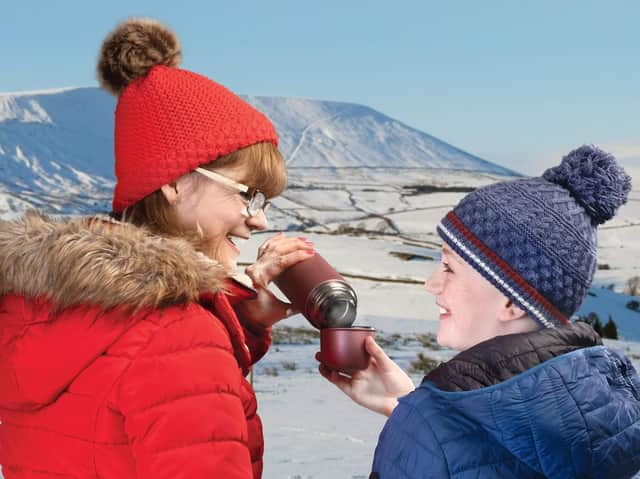 Karen McCormick (pictured with model) has featured in Lancashire County Council's Did You Know ...? campaign to dispel myths about fostering
Every year 1,040 children and young people in Lancashire are in need of foster care - that amounts to 20 new children and young people each week. There is an ongoing need for more foster carers in the county.
Today we are speaking directly to foster parents in Lancashire to hear their stories and ask what difference fostering has made to their lives.
They demonstrate there is no such thing as a typical foster parent. Like the youngsters they care for all their stories are different. But what unites them is a shared commitment - to make a difference to the lives of children and young people in Lancashire who need care and stability at a crucial time in their lives.
Ahmed Rawat: "You have to be an advocate for the children."
BAE Systems engineer Ahmed Rawat, 56, and his wife teaching assistant Rukkaiya, 53, have been fostering for nine years.
The couple have three children of their own. He said: " A family that we knew were fostering. We had the space, we had the time and we wanted to give something back to the community. It was something worthwhile."
So far they have welcomed four foster children into their home: "We had one English girl for nine months. We then took on responsibility to look after two girls long term. In 2017 we looked after a young lad from Sudan, a refugee."
Carol and Gary Sutcliffe began fostering at 60.
He said their own children were "part of the journey": "When we decided to foster we talked to them before we talked to anybody else to make sure they were on board. The social workers spoke to them individually to make sure they were happy as well."
They have been caring for the two girls for eight years. He said: "They are part of the family. We've helped them through ups and downs in life."
He says their Muslim faith guided their decision to foster: "It's part of the religion. You help the community when you can."
Ahmed continued: "We had the room. We had the love to give. It makes sense. We're helping the community. It doesn't matter which child, what religion, we would look after the child."
Sarah and Anthony Lane have returned to fostering
The rewards he says have been wonderful: "The first (foster child) got married last year and invited us to her wedding. It was absolutely fantastic. It's those things that reward, that fulfillment. We've supported somebody into adult life."
He acknowledges the logistics of family life require planning. Rukkaiya used to work four days a week as a teaching assistant, but has reduced her working days to two a week. He said: "It gives us enough flexibility to attend meetings and any training we need to do."
The Prestonian, who attended Ashton High School, added: "It's very rewarding when you see the smiles on the children and when you take them somewhere and give them that experience they've never had. The first child we did a Christmas meal for her - she was absolutely gobsmacked.
"Personally, yes, I would definitely recommend it (fostering). It all depends on your situation...It's not suitable for everybody. You have to have a certain mindset. There's a lot of people you're dealing with. You need to be able to manage everyone you talk to. You have to be an advocate for the children - the key to all this. At times you have to be really forceful and say this is what this child needs. You are living with this child day in day out. You really have to be the voice of that child."
In Wyre Karen and Andrew McCormick, both 54, combine running a kennels and cattery and caravan site with fostering. Karen said: "We've fostered for seven years. We wanted to make a difference. We love children obviously - we've got five of our own. We just love nurturing them. It felt like the best decision - you really can make a big difference to help a local child."
She said looking back her own children had loved welcoming foster children and helping them get into the family's routine.
The fact that the council also ran its own support group for the children of foster families was added support."It gives them the chance to chat to each other if they want that support and kinship."
With their older children now grown up Karen reports they still want to help - babysitting or taking the foster children on outings.
Andrew works full time in the family business and Karen part-time and says fostering can be viewed as part of a job as well: "It means I can go to meetings, meet up with other foster carers - at the moment we're Zooming one another."
She added: "It's so rewarding. These children come in, they have come from various backgrounds. You find out very quickly what small things in life they need...it's regular meal times, taking an interest in home work, providing clean clothes, getting them to school on time. They soon settle into your boundaries...Once they trust you they settle in beautifully. It's a lovely job to do."
The couple have cared for two foster children for seven years and five months ago they welcomed a young boy into their family.
She acknowledges that it might not always be plain sailing, with the inevitable occasional spats between children, but says: "You sit down and sensitively unpick it..."
When she was 52 Karen passed her first A'level: "Lancashire County Council sponsored me to do an A'level in children and young people. I thoroughly enjoyed it."
Karen is such a passionate advocate for fostering that she has featured in the current publicity campaign organised by the council to encourage more people to come forward as carers.
For parents and grandparent Carol and Gary Sucliffe fostering life began at 60. They explained they felt too young to retire, but often helped look after their grandchildren and wondered if fostering would fit in to their lifestyle.
Married for 40 years, their own children are aged 36,35 and 31. Nearly two and a half years on Carol, 62, said: "Don't just think about it, do it. No ,with hindsight, we wish we'd done it years ago and you surprise yourself what you can do."
She had finished work as an accounts manager in a St Annes hotel, where Gary had also worked part-time following his retirement from the police force. She had wanted to stop because her father was ill with Alzheimers and after he died she realised she still wanted to do something else.
She said: " We wanted to do something. We were only 60 at the time. I had read an article you should always do a job you enjoy doing and are happy with ... we thought about fostering. Gary had previously worked in the police force. He saw a lot of children taken into care. He said it would be nice to look at the other side of it and see what we can do."
Carol said she found the whole process of being assessed for fostering enlightening: "It makes you look at your life and made me understand how I am the way I am now."
Fostering has, she said, increased her confidence enormously and also made her realise the skills gained throughout her life.
The couple requested younger children to care for to fit in with their grandparenting role - they regularly look after four of their grandchildren whilst their daughter, a nurse, is on shift work at Blackpool's Victoria Hospital. Carol said: "The garden and house are full of toys. To have younger children we thought was better as they work with our family dynamic."
They are caring for two foster children at the moment and proved their enthusiasm for child nurturing when they looked after all six youngsters during lockdown - after their nurse daughter caught Covid-19 and had to self isolate.
They acknowledge that when the time comes for a foster child to leave it is hard. Carol said: " You've to put your feelings aside for this. It's the children and what's best for the children. We're giving them some happy memories. The job is all about the children."
They acknowledge that at the end of a busy day they can be tired but say it's a different kind of tiredness which comes from a job well done.
"A lot of chores are done during the day and we incorporate it with the children. We have our routine and it's the routine that gets us through and the children thrive on routines, especially looked after children."
The couple live in St Annes and former PC Gary said: "I retired 10 years ago and I thought it was the pipe and slippers for me for the rest of my days - how wrong was I? The reward is just seeing the kids so happy. When they first come you barely get a smile out of them "
Meanwhile Sarah and Anthony Lane returned to fostering after returning to Lancashire. They started fostering when they lived in Oxford in 2015, but then Anthony's job in the army brought them back north.
Sarah, 45, said" We did it for two years .I think it was unfinished business for us, because we had a move we were forced into finishing. We really enjoyed it. Then we came back to Preston and knew Anthony would be leaving the army and we'd be really settled. We really enjoyed it and wanted to start again."
The couple, who have a 19 year old daughter, had to be re-approved as foster carers by Lancashire County Council and since February have welcomed three youngsters for foster care.
Anthony, 47, said: "Sarah's family have been involved in fostering. Her mum and dad did it and her sister - so we'd seen the benefits of it."
In all, in Oxford and in Lancashire, they have fostered five youngsters. Sarah said: "Basically I just wait for a phone call. It's giving the children stability and love and giving them experiences they may possibly never have had, even small things like going to the park, the zoo, going swimming, the kind of thing we would take for granted for our own children."
Sarah added: "I'm a nursery nurse. I've had a lot of experience with young children, but if an older child needs help and we've got availability we would consider it."
Back in civvy street Andrew is starting work at a children's home and Sarah has given up work to concentrate on the fostering. She said: "I would recommend it. It sounds cliched - it's just so rewarding. You see the children change and just enjoy life."
Andrew agrees: "I enjoy it. We'e always had positive results at the end of it. You see the children develop and they're happier."
Lancashire County Council recently unveiled new initiatives to encourage more people to consider becoming foster carers. These included the creation of a new Fostering Academy which opens in November, extra support for new carers and a Did You Know? campaign to dispel common myths about fostering.
County Coun Phillippa Williamson, cabinet member for children, young people, and schools, said: "It's quite common for people to ask if they are too old to be a foster carer, or think that they can't because they have a family already, or they can't because they have a job. The reality is that fostering is open to people from a wide variety of backgrounds. For example, carers must be over 21 but there is no upper age limit, and it doesn't matter to us whether you already have a family, or you don't. You can work full time or part time, or not at all."
* For further information see www.lancashire.gov.uk/fostering or call the county council's fostering team on 0300 123 6723.
* For our report on new help for foster carers (including details of training and allowances paid) Click here.