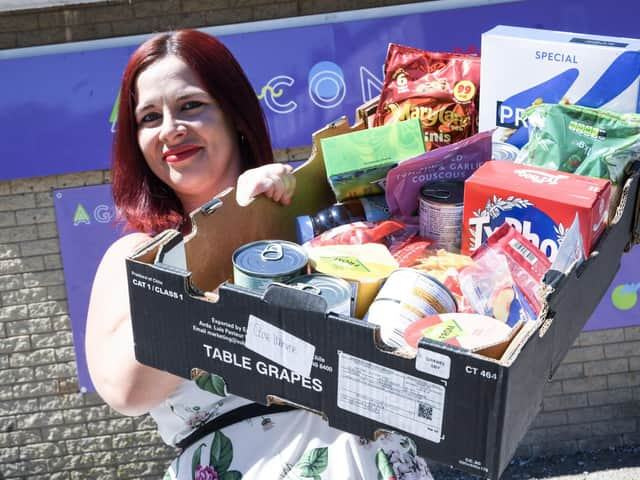 Emma Gardnerspendsthree days a week helping to deliver food parcels to elderly people and providing a befriending service over the phone as a volunteer for Age Concern Central Lancashire.
Emma Gardner spends three days a week helping to deliver food parcels to elderly people and providing a befriending service over the phone as a volunteer for Age Concern Central Lancashire.
The 30-year-old began lending a hand at the charity's Buckshaw Village shop last summer after being signed off work as a dementia care worker and being diagnosed with EUPD, also known as borderline personality disorder (BPD). The condition typically causes individuals to experience intense and fluctuating emotions, which can last anywhere from a few hours to several days at a time, and can lead to disturbed patterns of thinking or perception, impulsive behaviour and intense but unstable relationships with others.
But mum-of-one Emma, formerly of Leyland, says supporting older people who are struggling with dementia and loneliness while self-isolating has helped her to cope with her mental health during lock-down and given her the confidence to follow her dreams by applying to study for a degree in nursing.
She added: "Volunteering during the pandemic has definitely been a challenge and emotional but I think it's saved me.
"Being in lock-down with mental health problems would have been horrific. But I'm actually doing something, rather than hiding away, and helping elderly people has stopped my panic attacks. It's been like therapy."
Emma's mental health problems started when she was just eight-years-old but they began to deepen after she lost her grandfather three years ago, and she reached crisis point after a series of painful events, including a relationship breakdown.
"I've been fighting all my life and I went through all the mental health teams possible," she said.
"My grandparents brought me up and they were my whole world. When the grief hit me, I really started to struggle."
After receiving professional medical help, Emma was inspired to give back to the community and help others who are also vulnerable.
And now, thanks to volunteering, she added: "I'm growing in confidence, and making sure I get up, get dressed and put on some makeup. It's made me a stronger person and it's so rewarding putting a smile on someone's face."
But the role has not been without its difficulties.
"The people we help don't always answer their phone, so I'll go round and physically check on them, and when I'm getting food for them, I have one trolley for four people's shopping," Emma said.
The challenges are also emotional, with the volunteer adding: "Last week, an elderly person passed away. I didn't expect it as I'd only seen them a few days before.
"It's really upsetting because some of them have no family and they ring me in tears. The only contact they might have with people is when a volunteer drops off their shopping and has a chat on the doorstep. It's sad thinking of them dying on their own.
"I wish I could go in and give them a cuddle and have a cup of tea with them but I can't. That's challenging because I'm a caring person.
"Many of them also have dementia and they don't understand the situation. I'm used to going in and chatting with them but instead you go back to your car and sometimes end up in tears."
But there have also been special moments that have lifted Emma up.
She said: "The neighbour of someone I was dropping food off for the other day came out of their house clapping for me and called me an angel.
"And a lady came out on her doorstep another time and was clapping as I drove off. She was crying and told me that I'd helped to save her life."