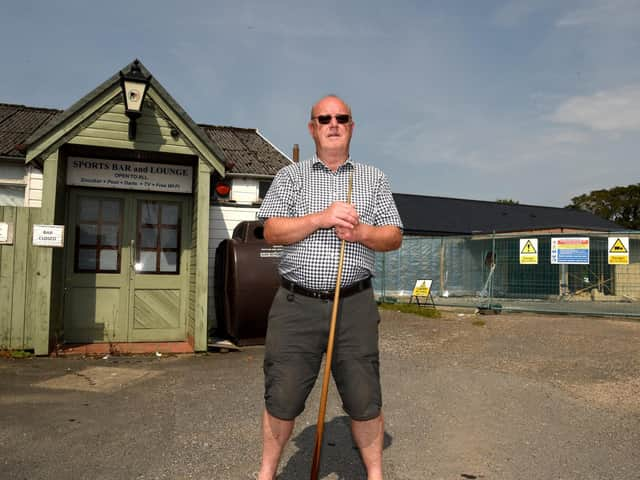 John Leak on the site of the village hall
That is the message from the chairman of trustees of Much Hoole Village Hall, after an online row.
Currently, phase one of building a new village hall off Liverpool Road is underway, but it will be smaller than the dilapidated hall it is to replace, and will not have capacity for the snooker tables enjoyed by teams in the village for decades.
Committee members have always promised phase two of the building would have room for the tables, but construction is dependent on renewed fundraising, and might take two to three years.
>>>See the original story on the snooker dispute here
But fresh concern was raised after a text message was leaked from a trustee saying phase two of the building might take another 10 years - or might never happen.
John Leak, who plays on the veterans team, said the text message had left players `"absolutely disgusted".
He said it was particularly badly received as it happened only a short time after snooker players who had left a fundraising lottery scheme had received a letter asking them to re-join, as their contributions were vital to the building fund.
The new building under construction
Howard Davidson, chairman of the hall committee, said: "The text message was private communication between a trustee and a lifelong friend. He expressed his own thoughts, which are more pessimistic than that of others on the committee, and do not reflect our intentions.
"It's difficult to put a time frame on building phase two, but it won't be 10 years plus."
In August the Lancashire Post revealed how snooker players from three teams based at the hall would be unable to use the new hall, currently under construction.
There was only space for one table, which meant they could no longer compete in the leagues, and it would mean players hanging around the room, waiting to play.
Mr Davidson said the hall had to be sustainable for the future, especially as the committee had a £150,000 loan to repay to South Ribble Council towards the costs of building. Additional funds have come from a decade-long fundraising programme and sale of land.