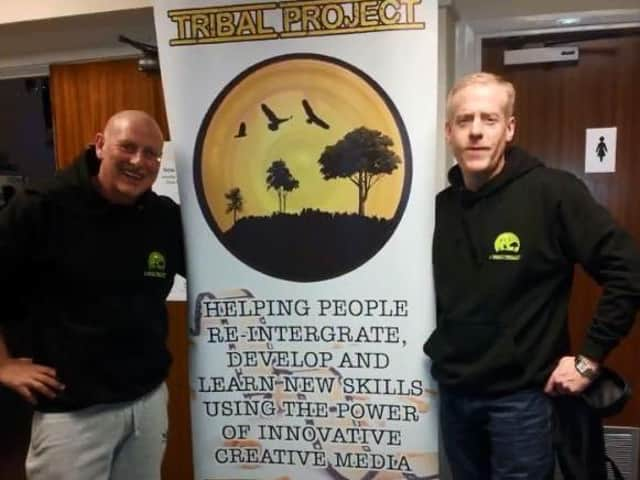 Paul Seddon (left) and Ian Edmondson, co-founders of Tribal Project (image credit: Tribal Project YouTube)
Tribal Project is unique. Recognising that once people start to move away from substance-abuse they're left with a hole in their life in need of filling, the programme uses creativity to help people cope with that absence, be that in the form of writing, film, photography, or music. This enables people to explore a healthier form of self-expression.
"Both me and Paul saw shortcomings in statutory drug and alcohol services through our own experiences," says Ian, 46. "Being an addict is a full-time job and, when you stop engaging with that negative behaviour, you have an awful lot of time on your hands, so the motivation was to create something we call value-added creative interests for people.
"Addiction is a big part of people's lives, so we're not suggesting they fill every minute, but we do advocate a balanced lifestyle," adds Ian, from Preston. "If you've stopped using heroin and you're sat in your armchair watching Homes Under the Hammer, you're thinking 'is this what I've stopped for?', but value-added creative interests can push people to explore new things."
Based at Plungington Community Centre, Tribal Project has since 2016 employed a three-pathway approach to support which separates people into three categories.
Tier one is the crisis group for people still using, with the project offering a more holistic programme of one-to-one support with everything from housing to finances so as to get people back on solid ground in their lives from where they can look to regain control. Tier two is the recovery group for those who are more established in their personal lives, with group meeting creating strong units for people. And tier three is the moving-on group for those looking to put their substance abuse behind them.
"We're a stepping stone in people's recovery and we look at recovery as a part of life from which you move on," says Paul, with the charity assisted by three volunteers all with personal experience of addiction. "We're not suggesting for a second that it's not a lifelong battle, but we believe that moving on with the support of a strong community around you is part of the process."
But, during lockdown, helping people move on has been tough.
"With Covid, it's been hard to help people because the group setting is so important," adds Paul. "We tell people not to isolate, but overnight that was out the window. And then Rishi Sunak gave people on certain benefits £20 extra per week which had a massive impact because imagine being an addict in isolation with extra cash. That money's only going on one thing."
Recognising the importance of their work at such a vulnerable time for people, Ian and Paul came back off furlough in July and started holding socially distanced meetings. With people spending more time at home, they'd seen a sharp rise in the number of calls regarding loved ones whose negative habits had been revealed in lockdown and now work with around 30 to 35 people every week.
"A big trigger is worry, and what better reason to be worried than an unknown, unseen, intangible virus floating around which feeds into negative self-talk and leads people to think 'hang on, I'm six weeks off the booze but I could be dead in six days; what's the point?'" says Ian. "That's why coming back in July was so important; we'd seen two deaths from overdoses, so people needed the centre open.
"Since then, we've seen life-changing progress," Ian explains. "There's nothing better than meeting face-to-face; we did non-stop phone and video calls, but in-person meetings are tangible. You can build your week around them and they allow people to get that human contact.
"That's why we're keeping those doors open."