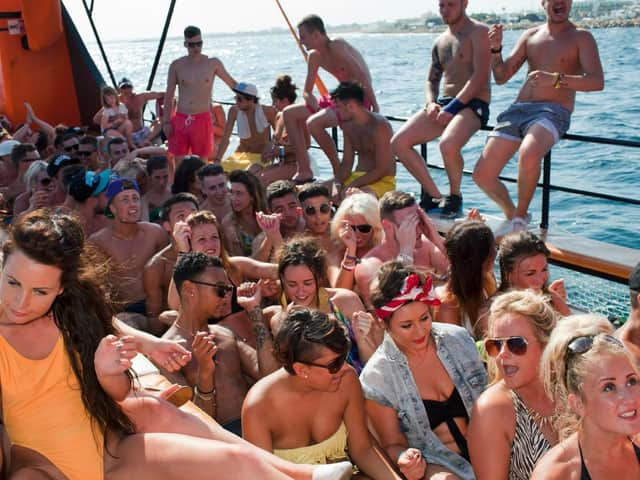 British Abroad
Lancashire Photography Festival will display projects by renowned John Davies and Peter Dench on the city's streets.
Davies is part of the British photography establishment, with his stunning large-scale black and white images of industrialised landscapes recognised around the world.
The Durham-born photographer, who now lives in Liverpool, has published over 20 books and exhibited throughout Europe, North America and Japan.
His landmark publications include A Green & Pleasant Land(1986), acclaimed publisher Dewi Lewis first photobook, and The British Landscape(2006)..
Since 2006, Davies has also been active with campaigns to save open and green space.
Davies said: "To view the landscape as a pictorial composition of elements is simplistic. To perceive the landscape within the context of its functions is a way people can deal with the
complexity of meanings that are presented in our environment.
"We are collectively responsible for shaping the landscape we occupy and in turn the landscape shapes us whether we are aware of it or not."
Photojournalist Peter Dench has tirelessly documented British culture, publishing several acclaimed books including England Uncensored. Alcohol and England and Dench Does Dallas.
The Dorset-born photographer, who now lives in London, has developed a reputation for producing beautifully brash colour images depicting brutal scenes of alcoholic excess.
His project The British Aboard will be shown at Lancashire Photography Festival. Dench said: "During my career, I've had the privilege to work on assignment in over 60
countries across the globe but it's towards the British I've consistently pointed my lens.
"It's my home, my passion and its people are the ones I want to document most, warts and all.
"When not annihilating themselves with alcohol at home, many young Brits can be found slowly turning pink in the party resorts across Europe. I look forward to exhibiting some of what I
witnessed at the festival."
The festival, created by photographer Garry Cook. will also show the work of dozens of local photographers, plus projects by Blackpool Sixth Form students and Preston Photographic Society.
Cult artist Foka Wolf, known for their controversial spoof posters across the UK, will exhibit work, too.
Images of Preston skaters will also be displayed at multiple sites.
The festival will see images exhibited on walls, hoardings, in shops windows and on specially-built displays.
There will also be unique innovative photography displays, including a planned shop-window installation.
The city-wide exhibition will include sites on Preston Market and on the hoardings of the former BHS building on Fishergate.
All images in the festival, which launches on Friday, Aprril 2. can be viewed from the street in a totally safe, socially-distanced way.
Organiser Mr Cook said: "I've wanted to hold an outdoor photography festival for a long time.
"After a few months of lockdown last year it was obvious that an outdoor exhibition was the single best way to keep people engaged with the arts and culture in a safe way.
"It will start off this spring in a small way, an experimental pilot event, but the plan is to make it into a major festival held every year."
He added: "I'm already working with Preston BID, the Harris Museum and the city council's cultural department to help make this festival the best it can be.
"Although lockdown means this pilot festival will be kept small, the aim for future years is to help define Preston as cultural destination for visitors through the world-class photography projects which will be put on display in the city."