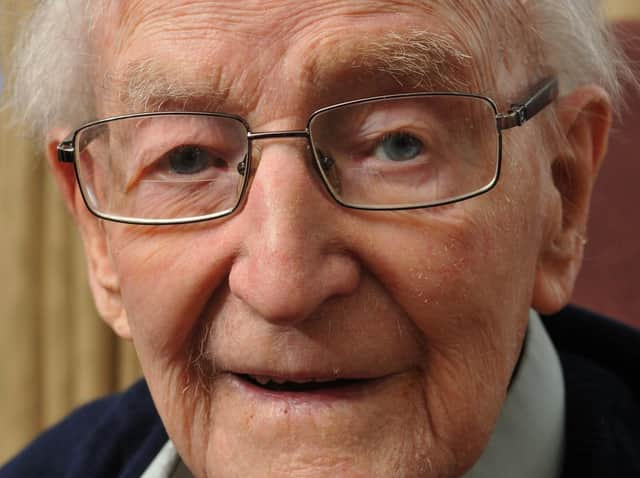 Wellington at 100
Wellington Slater, known to most people as Wally, passed away at Longridge Hall Nursing Home on March 10, after a short illness.
The great-grandfather was born the third of son to Richard and Ann Slater in the family home in Mersey Street, and he spent 96 of his 103 years living in the town. The remaining six years were spent serving in the RAF during the Second World War.
It was for his efforts as RAF operations planner, serving on home territory and then in Moritania and the Gambia, that he was given the Freedom of Longridge for in 2016.
His son Graham, 67, said: "Getting the Freedom of Longridge was a very proud moment for my dad, and for the family.
"He had a very strong affiliation with the village and surrounding area.
"When he grew up in the 1920s, people didn't have cars and sometimes they didn't have bicycles, so they would walk for miles. My dad knew a lot of the local area and who owned what piece of land from his time walking."
Wellington attended Robert Smith's Boys School and then gained a scholarship to the Harris Technical College.
Wellington in West Africa
After a paper round at 10 years old and helping his uncle on Blackburn Market, his first proper job was at the old Longridge Foundry where he worked from 16 to 22, before being called up for the RAF.
When he returned home, he met wife Sheila and became involved in the Royal British Legion, becoming branch secretary and a regular Remembrance Day wreath carrier for St Pauls Church in Parlick Avenue, as well as a local committee member for the Longridge Co-operative Society.
He found work with a Longridge company with another strong local name, W Carefoot and Sons, where he spent 36 years and where he retired as company secretary.
Graham said: "People have said to me that he was a real gentleman - he was really well respected by his friends and work colleagues. His personal integrity was so very, very high.
Celebrating his 100th birthday with friends and family
"But he also had a tremendous sense of humour and was quick witted - till very late on in life.
"And he loved being sociable, he could talk for England."
As well as being a dedicated family man and employee, he was also a keen sportsman and in his younger years played for Longridge Town FC and Longridge Cricket Club, as well as belonging to a crown green bowling for 50 years.
As well as playing sports, he enjoyed watching them. He went to Wembley in 1937 and 1938 to watch Preston North End in two FA Cup finals, and in his later years spent a lot of time watching sports on the television.
Graham said: "He'd be interested in all sorts of sports, including ones he hadn't taken part in. For instance, he was fascinated by the cycling, such as the Tour De France. He'd like to know about the places they were travelling through, the geography and maps.
"He was interested in life, and when he went into Chorley Hospital, he told one of the nurses that that was the secret to his longevity - keeping interested in life."
It would seem that genetics also played a part in Wellington's longevity, with many of his relatives on both his maternal and paternal sides living to grand ages.
Wellington's funeral will take place on Monday, March 22 at St Lawrence Church, Longridge.
From a Lancashire Post interview in 2007
He had returned home to Longridge in 1946 after active service in the RAF as a sergeant in 'ops' – plotting aircraft flights and movements in different far-flung operation stations.
His service took him from the east coast to the Isle of Lewis, covering the Western Approaches and to West Africa, coping with its plagues of locusts, just two rain showers in nine months and distilling drinking water from the sea.
In 2007 he recalled how carrier pigeons were used to help locate a stranded Fleet Air Arm pilot…how he counted battle weary aircraft in and out using just goose-necked flares on runways as there was no electricity… posting warnings to shipping that the Germans had dropped acoustic mines...and using his respirator as a pillow covered by his regulation 'comfort' scarf when he had no real bed for three months.
"It was amazing what we did then with the tools we had, compared with the equipment and the technology we have now!" he said with a rueful laugh.
Taking up the story himself, after his five weeks training at an operation centre near the mouth of the Humber – from where many famous sorties were flown – he was posted to Stornoway on the Isle of Lewis.
He sailed across the notorious 'Minches' seven times to and from leave, and was then moved to Hooton Park on the Wirral for navigational training.
"In midsummer 1943 I was on the go again this time to Pembroke Dock in South Wales, a flying boat station with two Sunderland squadrons and an American Catalina squadron – another experience and change of procedure, " he recalls.
"Leaving there, I went to Blackpool to be issued with tropical kit before sailing from Liverpool bound for West Africa and Gambia and later flying from Yandam to our desert station where we could operate the flying boats.
"This was 600 miles from Gambia and a thousand miles from our headquarters in Freetown, from where we eventually sailed home at the end of June 1945 on the Duchess of Bedford, a troopship known as the 'waggling Duchess' because she tended to roll even in a calm sea!
"Arriving Liverpool in the July, we were dispersed for a week to Morecambe, and following disembarkation leave I was posted to Bentley Priory in Stanmore, Middlesex.
"This had been the HQ for Fighter Command and the centre of all its activities and orders during the Battle of Britain – by then it was the place for phasing out of personnel until demobilisation – and I was eventually demobbed at Kirkham on March 6 1946."