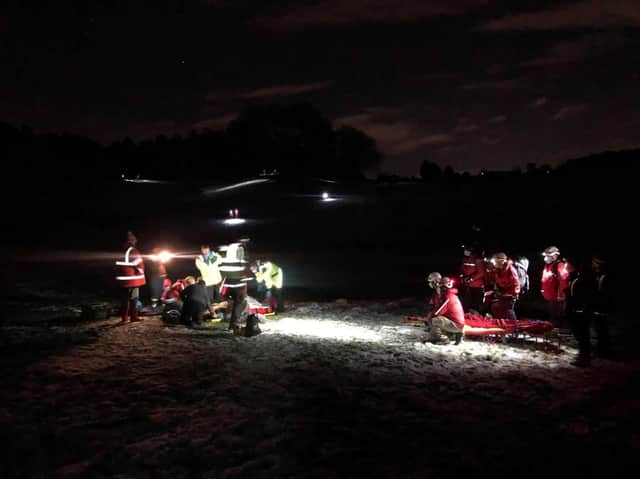 Bowland Pennine Mountain Rescue Team with a patient being treated by the rescue team doctor and team members
The recent snowfall and bright sunny weather had inspired many to get outdoors to enjoy the winter wonderland but the icy conditions underfoot led to a number of accidents.
During the afternoon a call was received from the police to help a father and four-year-old son who had become stuck in a bog on Hare Appletree Fell to the south of Clougha Pike, near Lancaster.
They could not find the path but rescue team members were able to locate them quickly and assist them back to the car park at Jubilee Tower where they were warmed up in a rescue team vehicle as they were suffering with early stages of hypothermia.
Even before that incident had concluded a call-out message was received from the North West Ambulance Service to attend a 72-year-old woman who had fallen on an icy path near the Shaw Brook in Worden Park, Leyland. Team members were quickly redeployed and located the injured lady in the care of a passing doctor who had reported a serious injury to her hip.
The woman was stretchered out of the woodland stream valley and placed in a Mountain Rescue Land Rover, keeping her warm to await the arrival of a NWAS ambulance for onward transportation to Royal Preston Hospital.
Thee Police Incident Commander then called the team out to a male who had been injured whilst sledging near Abbey Village. The team doctor and paramedic established that the man had sustained potential leg and back injuries which required the use of a specialist vacuum splint.
He was transported by the Team Land Rover to the road and transferred to a land ambulance.
Kevin Camplin, the Mountain Rescue Team Leader, said: "We have the resources and capability to respond to the exceptional circumstances of multiple call-outs on the same day.
"I am proud to be the leader of the team of 30 volunteers who gave up much of their Sunday to assist the police and ambulance Services in helping our community.
"We are non-judgemental but would advise members of the public to take care under the current icy conditions and appreciate that accidents will happen".