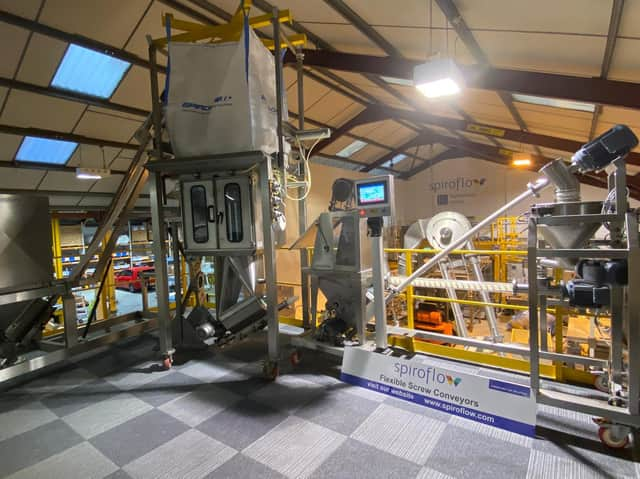 Spiroflow
Spiroflow builds bespoke machinery for any processing system moving dry bulk solids, from confectionery, chemicals, and plastics to cosmetics, recycling, and coffee. An industry-leader, their products range from simple mechanical conveyors to full-scale power handling systems with state-of-the-art integrated controls. And they're helping business large and small ride the wave of the digital revolution.
"On my first day, my MD took me round Tesco and, apart from the fresh fruit and veg, there was a product on every single aisle that we have a hand in," explains Marketing Manager Eleanor Spensley, 28. "The industry touches everything and it's something you don't necessarily think about but, as a non-engineer, I find it fascinating to see how much goes into the tech.
"We provide custom solutions and work throughout the process, meaning that all the machinery is entirely bespoke because plant layout can be different, processes might need to be faster, or the environment might need to be clean and sterile if it's food production," adds Eleanor, from Clitheroe. "We can help with all of that."
Craig Hollings, Spiroflow's Technical Development Manager
Practicing what they preach, Spiroflow - which has 35 members of staff - has also been working with Made Smarter, a North West programme which helps businesses embrace technology to promote development, to transform their factory into a Smart Workplace of late, now boasting mobile and static flexible screw conveyors, aero-mechanical and tubular drag conveyors, bulk bag fillers and unloaders, as well as their own test bay.
The company is also keen to help other places of work embrace the benefits of technology as well.
"I've worked up from sales on the shop floor to where I am now," says Technical Development Manager Craig Hollings, 33, who is responsible for their Spiroflow Active Monitoring (SAM) system which automatically tracks equipment and production through sensor-based tech. "Our vision is to transform the industry through the adoption of digital technology.
"SAM has been my baby to develop and grow, and it can give vital feedback to both larger and smaller companies as they grow with the digital revolution," he adds, having worked for the company for just under five years. "Processing is a universal technology and so making things easier for companies is crucial.
"SAM gives people faster and better-informed decision-making by unlocking critical data about performance; everyone has to be ahead of the trend and we can not only provide info on why things are as they are, but also look at preventative maintenance to avoid any potential issues."
With all their solutions being bespoke, Eleanor says that working with both larger blue-chip companies and smaller more local businesses alike keeps the work interesting.
"That variation keeps things fresh, it's also a challenge because nothing is just off-the-shelf," she explains, having worked at Spiroflow for three-and-a-half years. "Covid is making more companies look at tech, so it's all about educating customers as to how they can benefit from the increased visibility over their equipment which we can provide.
"From testing new Smarties to huge bits of new tech, no two days are the same."
Craig, from Blackburn, agrees.
"It's mind-boggling to think about the prestige of the customers we deal with when we're a Clitheroe company with a relatively small footprint," he says. "To be working on products such as Weetabix, Tunnocks Tea Cakes, and Swizzels is great, but it's almost more rewarding to work with the smaller companies because you see how much they get out of it, which is great.
"This is about changing mindsets, raising awareness of the benefits of digitalisation, and bringing [companies] along on the journey towards industry 4.0."
The space is fully equipped with a range of equipment, including mobile and static flexible screw conveyors (FSC) - the mobile version featuring Spiroflow's remote monitoring system - SAM, various FSC tubes and spirals, aero mechanical and tubular drag conveyors, as well as bulk bag fillers and bulk bag unloaders. The test bay facility has also proved to be an ideal venue, with the online demonstrations providing a captivating alternative solution to on-site visits.