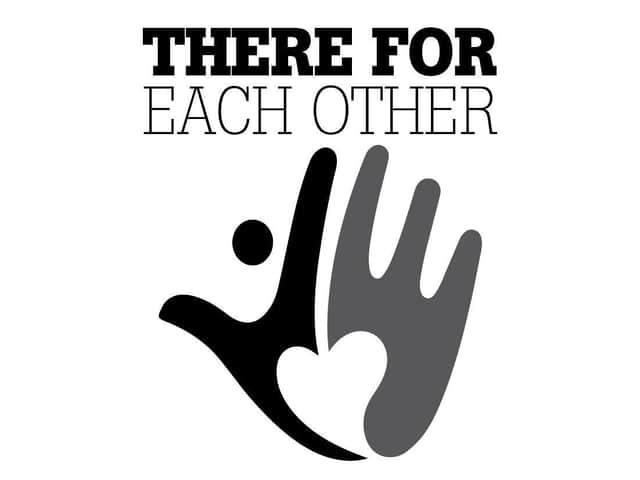 A campaign launched by JPI Media
We have Christmas to look forward to (once we all work out who we can spend it with) and there is plenty of hope for 2021 with vaccinations being prepped as we write this.
It's important we celebrate this month despite the ongoing pandemic pressures.
We could all do with a break from the mental load this year has dropped on us. Yes, we must follow the rules and regulations, but that won't stop us from sharing socially-distanced turkey with a loved one or telling awful cracker jokes over Zoom.
Wellbeing coach Lee Chambers
That's not to downplay the seriousness of events.
It may feel that Christmas has come at a bad time, that the Covid Grinch has stolen our season of joy.
Yet it's in our power to make this a memorable Christmas for all of the right reasons. So many things are out of our control but we all have the incredible power of making those around us smile at the end of an awful year and without troubling the bank account.
Why not pick up the phone to someone who lives alone and ask them if they're okay or if they need a hand with anything, or send a card to that friend you haven't been able to see for months with a heartfelt message.
Staff at Service Care Solutions
Do put up those amazing lights on the outside of your house and wave to those who marvel at them. We'd love to hear about these special moments and to share them with all of our readers - put together they can be incredibly powerful.To help, we are creating a free Christmas card that you can share digitally or print off at home to put it in the post. It will be on our website for you to download for the next few weeks.
If you can remember as far back as the start of lockdown in March, we told you how we would be there for you throughout the pandemic and beyond, as we have always been. Now we are asking you to be There For Each Other as we face a unique Christmas.
To keep our end of the deal, here's a selection of what you can expect from us over the coming weeks:
•Sharing your Christmas fun, from Santa Paws to amazing decorations
•Advice and guidance on who to contact for financial and health advice
•Small steps to help with your mental wellbeing through this winter
•Cheaper alternative gifts and food this Christmas
•Daily advent messages and images on our Facebook page
•Regular updates on the guidelines and how to stay safe
•Your views on Tier 3 and how it is impacting Christmas.
Do stay safe this December.
And remember, we'll be here to help.
Wellbeing in the workplace or when working from home
Preston-based wellbeing expert Lee Chambers says he has seen a significant change in feelings from employees as the year has gone on.
He says that while at first people saw working from home as a novelty and embraced a "war effort" type mentality, the deteriorating weather, shorter days, ever-fluctuating regulations and loss of 'social anchors' such as festivals, holidays and Christmas parties means people are beginning to struggle.
Lee, founder of Essentialise life coaching in Ribbleton, said: "A lot of people are struggling to disconnect. You might have a spare room you can use as an office, but often there are constant interruptions from children and from partners who, because you're there, take it as fair game to come in and talk.
"People are struggling to keep to a routine. They're working too long, they're constantly distracted and they're missing the buzz of the office.
"Many people found it easy at the start when they had workload set and defined, but when they start a new collaboration, they're finding it harder to work as teams. Conflict also arises when people have different ideas on whether you should be working from home or in the office, and furlough is an added complication.
Some people feel out of the loop and at risk of redundancy, while others who are still working are resentful they are taking on more work and responsibility to cover those off work on 80 per cent pay.
"There is a real segmentation of people, and a lot of anxiety."
In order to combat some issues, Lee (inset) recommends:
• Workplaces 'buddying up' workers to support one another or confide in if they do not want to talk directly to bosses.
• Taking a 'simulated commute' in the morning by going out of the house and walking around the block before starting work.
• Having a 'digital sunset' - putting devices such as laptops and phones out of reach at a certain time.
• Booking in time on a digital caldendar for a time out or a lunch break, and honouring it.
• Carrying on with traditions, for example, putting Christmas decorations up, or having a Christmas party via webcam.
• Companies asking for feedback on how they can improve.
Preston-based recruitment agency Service Care Solutions employs more than 100 staff at its offices in Starkie Street.
The company already had robust employee welfare programmes in place before the pandemic, including offering free wellbeing coaching sessions and training 'mental health first aiders', and has been quick to respond to changing needs caused by working from home.
"Like many businesses across the UK, we have found that employees have experienced new challenges working from home and we recognise the vital role that the workplace has in supporting everyone," said Chris Musgrove, company director.
"You spend such a large proportion of your day at work, so it is important that we have an understanding of the challenges people face."
While staff work from home, the company has ensured people have regular contact from their managers and the managing director on a daily or weekly basis, and have encouraged staff members to telephone their colleagues to catch up on how they are doing.
As well as this, the company has run competitions including 'photo of the week', where people could share a snapshot of their life at home.
Little perks are also a big boost. Although the annual awards ceremony could not run as normal, the company gave people a small budget to treat themselves to a takeaway or a few drinks to have while the ceremony was run over Zoom. They also sent out surprise Halloween treats to people's homes.
For two years the company has teamed up with a Lancashire Mind wellbeing coach, offering free and confidential 30 minute one-to-one sessions. These deliver ways to help people build resilience, develop healthy coaching strategies and improve their quality of life.
All staff and all candidates are also signposted to a partnership with Able Futures, a service that provides a wide range of mental health support services.
Staff members can also volunteer for training on how to become a Mental Health First Aider, so that they can be on hand to help anyone in the office- or working remotely - that is going through a tough time.
Struggling with mental health
If you're struggling with your mental health, you're not alone - and there are plenty of people and resources out there to help.
Mental illness can appear in a variety of forms, from depression to OCD and anxiety, and it's estimated that around one in four people will experience mental illness in their lifetime.
However bad or low you may be feeling, it's important to remember that you will not feel this way forever. You deserve help, and there is plenty out there available, all year round.
If you are experiencing suicidal thoughts and need to talk, there is support available for you 24 hours a day. The Samaritans can be reached any time, anywhere in the UK at 116 123 or over email at [email protected] for completely free, non-judgemental help.
Alternatively, you can text "SHOUT" to 85258 to contact the Shout Crisis Text Line, or text "YM" if you're under 19.
The Samaritans are not just there for urgent or emergency situations. You can also contact them anytime you are struggling - they will always be there to listen.
Talking about your issues can often be hard, and sometimes the last thing you want to do when you're feeling low, but talking will always feel better than bottling everything up.
Your family and friends will want to help you. You should remember that you are not a burden on them, and they would much rather you shared your thoughts and feelings than keeping them a secret.
If you find it hard to talk with your friends and family face to face about these issues, you may find it easier to talk while doing an activity together, such as going for a walk or jog. Sometimes focusing on the activity and speaking side-to-side rather than face to face makes it easier to share difficult thoughts.
Of course, just talking about your issues may not be sufficient in the long-term, and there is professional help available to those who need it. You can either talk to your GP about your mental health, and they may refer you to counselling, or you can refer yourself directly through the NHS website.
Your GP may also offer you anti-depressants. While it is important to carefully consider whether this is the right option for you, remember that there is no shame or weakness in using medicine to help you with your mental health. Such treatments can be hugely effective in helping you cope day to day.
It may help to plan ahead for a crisis if it's likely you will experience one in the future. Staying Safe has an entire website designed to help you make a plan of action.
It may also help to keep a journal of your activities, thoughts and feelings - even just a few short notes. Doing so could help you better identify what factors lead to you feeling worse or better, and improve at managing your mental health.
Your mood and mental health can be hugely affected by lifestyle factors, such as how much alcohol you drink, or how much you exercise.
When you are feeling low, it can be incredibly difficult to look after yourself by eating well and exercising, and you should not beat yourself up if you are finding this difficult.
Exercise plays a huge role in influencing our mood, but the will to get out can be hard to do alone. You could try arranging walks - no matter how short - with your friends and family, while remembering to observe guidelines on meeting up within Tier 3 areas.