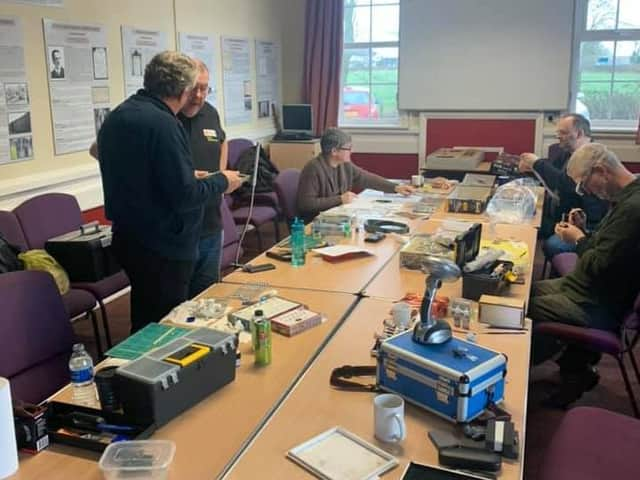 The Memorial Modellers' Group
Getting people together for a chat over a cuppa and a biscuit, the group is centred on that most classic of pastimes which defined many a childhood: modelling.
Founded last September by Matthew Nightingale, prior to lockdown the MMG met on the last Wednesday of every month at the Samlesbury War Memorial Hall, from which the group took its name. They managed about half-a-dozen meetings before lockdown was imposed in-person events were curtailed, with the group now keen to get back whenever regulations will allow it.
"My childhood was in the late '60s and the early '70s and, like a lot of kids, I loved planes and military stuff, so I'd make Airfix models," says Matthew, who's originally from South London and now lives in Ribchester. "Going down to the local toy shop with your pocket money for a kit was a big part of childhood back then, but then I discovered work and girls and everything else and stopped doing it.
The Samlesbury War Memorial Hall where the MMG meets
"About six years ago, my wife bought me a kit for Christmas which rekindled the passion and I got back into it," adds Matthew, 62, who moved north when he got a job with BAE Systems in the late '80s. "I joined the IPMS Lancashire group which met each month at the Canberra Club at BAE Systems in Samlesbury. You could just take your model and have a beer and a chat.
"I realised that, of the people there, a high proportion were single guys who came along for the social aspect and who were really disappointed if the meeting was ever cancelled," he continues. "I retired two years ago and so I decided to set up another group."
The history of models goes back to the 1930s, when English manufacturer FROG (which stood for Flies Right Off the Ground) began manufacturing kits, although Airfix soon became synonymous with the hobby as it grew in popularity.
Not named for the company's forays into the world of aircraft modelling, Airfix was founded in 1939 by Hungarian Nicholas Kove who, according to Airfix historian Arthur Ward, liked words ending in 'fix' and wanted a company beginning with 'a' so it appeared at the front of trade directories.
The Memorial Modellers' Group's first meeting
In fact, the company (at one time the largest manufacturer of plastic combs in the UK) didn't even start making commercial models until 1952, when Kove struck a deal with Woolworths to sell plastic kits of their Golden Hind model. The rest, as they say, is history.
The benefits to the MMG are myriad and varied. As well as offering a warm and friendly atmosphere in which people can indulge in a cherished hobby alongside like-minded peers, the MMG is also the purveyor of an activity which has been lauded by experts for its positive impact on the brain.
Studies show how the brain loves practical pastimes which produce something tangible. Throw into the mix its therapeutic nature and the educational value of learning about the models' real-life counterparts, and you have yourself a super-hobby when it comes to brain functioning and mental health.
"Modelling has become a hobby for older people because of the nostalgia: we all remember it from our youth," says Matthew. "Getting people together over a shared interest creates a human connection and camaraderie, which is a big part of it. When you come in with your kit, it's a natural ice-breaker for someone to say 'oh, I made that kit, it's a pain, isn't it?' which creates a connection."
The group is unsure when it will next meet, but one thing is for sure: when it's safe to do so, you'll find them modelling once again.
"People are very keen to get back because it's a big part of some people's social lives," explains Matthew. "People come down, have a brew, have a few biscuits, and make their models over a bit of a chit-chat.
"Just being in other people's company creates that sense of fellowship."