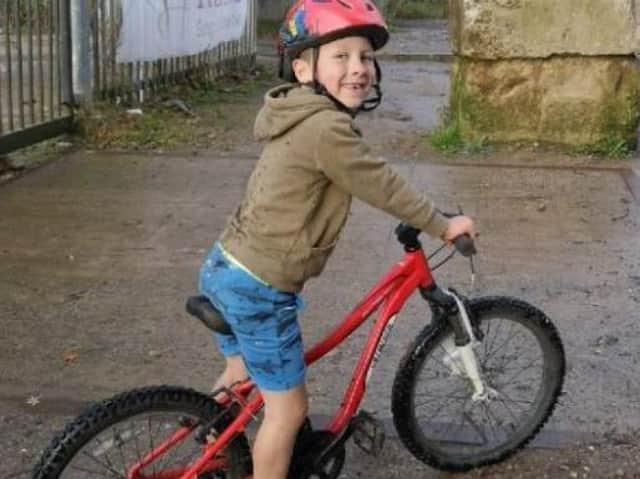 George is ready to take on his 20-mile bike ride next month
In a bid to raise money for those less fortunate, five-year-old George, from Chorley, made the decision to brave the 20-mile bike ride and raise funds through a Go Fund Me page.
Proud mum Shannon Thomas said that the idea came to them when he had mentioned that he wanted to give some of his toys to other children and sell the rest to buy food for families in need.
She said: "Off his own back, he decided he would like to help as many families as possible this Christmas. He asked if we could give food to families who can't afford it so they can have a nice Christmas dinner.
"After a discussion on how we could help even more families, he decided a fundraiser would be a good idea and will be completing a 20-mile bike ride from our home to Southport on November 15.
"We would really appreciate any support we can get in making a difference to as many families as possible and George will thrive off any support and donations made to his appeal."
In the space of five days, little George has raised more than the original target of £1,000, which will be split between the two worthy causes.
Half of the money will be donated to the Cash 4 Kids Christmas appeal, with the rest used to purchase food for the Living Waters Church food bank.
George has been practising his bike riding skills before tackling his big ride next month
The Cash 4 Kids appeal was created to improve the lives of disadvantaged children and young people affected by poverty, illness and neglect.
The Living Waters storehouse is vital in providing emergency food for people in crisis and need within the Chorley district, particularly at Christmas.
On October 26, George completed 14.5 miles, his furthest distance yet, to make sure he is ready to take on his charitable feat.
Shannon added: "George has had a love for bikes since before he could walk and regularly does bike rides, but this will be a big challenge for him.
Mum Shannon said son George 'loves riding his bike'
"Any donations and support given will really spur him on and help him reach that goal."