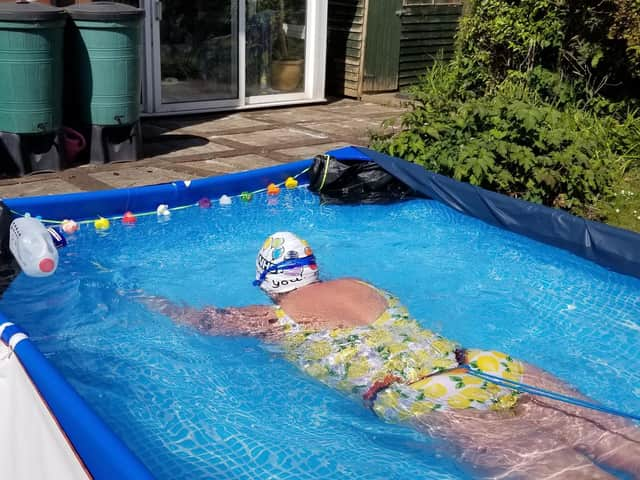 Audrey Hellan swimming in her back garden in Longton
Audrey, 58, of Great Tunstead, Longton, set up a pool at her home and gave herself the challenge of swimming the equivalent of the channel at a mile a day, over 42 days.
But Audrey, who is in remission from breast cancer after gruelling treatment last year, finished the target three days early.
And she smashed the £500 target she set, virtually doubling the figure thanks to kind-hearted sponsors by raising £980 so far.
Audrey, who has worked as a non-medical anaesthetist at Blackpool Victoria Hospital since 2007, now hopes to reach a new target of £1,200 in sponsor money.
Audrey is raising money for the Blackpool charity Hug in a Bag, which aims to bring some comfort for breast cancer patients in Blackpool, Wyre and Fylde by providing lovely hessian bags including make-up, hand creme, cooling aloe vera gel, healing stones and a diary.
The mum-of-one, who lives in Longton, just outside Preston, said: "It's a wonderful charity and it relies on donations so I am trying to raise as much as I can.
"It I can raise £1,200, that will mean I can pay for 20 of these bags to bring some well-needed comfort to breast cancer patients."
Anyone who wants to donate to the cause can visit the fundraising page at www.justgiving.com/crowdfunding/audrey-hellen