Race for Life: Lancashire Teaching Assisant set for VIP treatment after battling breast cancer
A Lancashire teaching assistant who found a lump on her breast while having a shower will be a VIP guest at Cancer Research UK's Race for Life Blackpool.
Watch more of our videos on Shots! 
and live on Freeview channel 276
Visit Shots! now
42-year-old Donna Russell, from Kirkham, will sound the starter horn at the event on Wednesday July 5, which already has around 1000 participants and hopes to raise around £84,000 for Cancer Research UK.
Donna's cancer journey
Donna, who works at St Michael's C of E Primary in Kirkham, says she was shocked after finding a lump on her right breast in 2019 which was not there just a day earlier.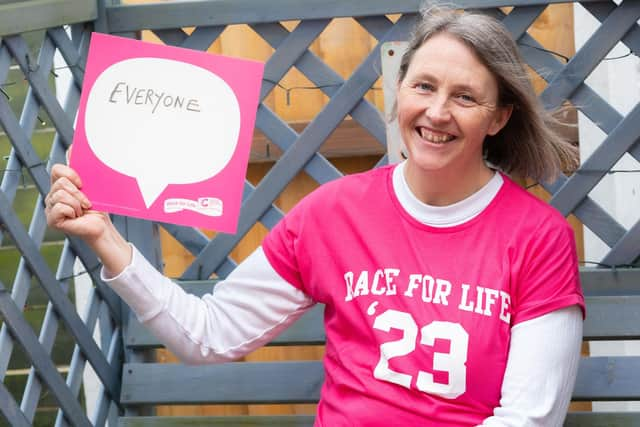 Having lost her dad to cancer, Donna felt anxious and immediately booked an appointment with her GP. Within days the lump was already growing in width.
Donna was initially advised the lump was likely to be an innocent cyst which needed to be drained. However, following a mammogram and biopsy at Chorley and South Ribble Hospital, Donna was diagnosed with an aggressive form of breast cancer.
Not realising there was a family history of breast cancer as nobody had ever discussed it, once Donna started chatting to relatives, she discovered an aunt and cousin on her dad's side had both died of the disease.
Donna had her right breast removed but the cancer had already spread to her lymph nodes. She underwent five months of chemotherapy and thanks to being physically fit, was able to get through the treatment relatively easily.
She then faced daily radiotherapy for a month and was finally gearing up to return to the job she loves in 2020 when the covid pandemic struck, and she had to wait until autumn that year.
Donna still needs regular check-ups and bone infusions, and is also doing yoga to build up her right arm strength after the lymph nodes were removed. But other than her previous brown curly hair growing back following chemotherapy as straight and grey, she is back to her old self.
Donna's Race for Life
Donna had been a regular Race for Life participant prior to her cancer diagnosis. She took part in the Blackpool event with her godson when Race for Life returned following the pandemic in 2021, and again last year.
Donna said: "I'm proud to Race for Life and thrilled to be special guest at the event! Cancer was a tough thing to go through and it was initially scary when the lump on my breast was growing so quickly, but other than 10 days during chemo when I felt awful, I promised myself I wouldn't allow myself to feel ill and would crack on with the treatment.
"I was fortunate to complete all the treatment just before the start of the pandemic or it would have been a very different experience.
"We all have a reason to Race for Life. For me it will be a chance to say thank you and to raise money to help others facing cancer right now. It's thanks to advances in research and treatments that I'm here and can enjoy more special moments with my family and friends.
"I'm excited to Race for Life and play my part to fund research today which I hope will also help beat cancer for future generations."
What do organisers say?
Cancer Research UK's spokesperson in the North West, Jane Bullock, said: "We are incredibly grateful to Donna for her support.
"We'd love for as many people as possible to join us during our 30th year of Race for Life. Sadly, cancer affects all of us in some way. Whether people are living with cancer, taking part in honour of or in memory of a loved one with cancer, or signing up to protect their own children's future, everyone has a reason to Race for Life. Together we can bring about a future free from the fear of cancer. So we're asking people across the region: Who will you Race for?
"Our Race for Life events are open to all. For some people, Race for Life is literally a walk in the park. Slow and steady still wins. For others, it's a jog. Others may opt to push themselves harder, taking up the challenge of the 10K distance. But what's for certain is we're looking forward to welcoming people of all ages and abilities."
When is the Blackpool Race for Life?
Cancer Research UK Race for Life Blackpool takes place on Wednesday, July 5.
At 6:30pm the 10k event takes place, and at 7:00pm the 3k and 5k events take place.
You can register up until the evening before the event and to enter, visit raceforlife.org
Cancer Research UK's Race for Life, in partnership with headline sponsor Standard Life, is a series of 3k, 5k, 10k, Pretty Muddy and Pretty Muddy Kids events which raise millions of pounds every year to help beat cancer. This is the 30th year of Race for Life and participants will receive a special medal to mark the milestone.
Every year around 43,600 people are diagnosed with cancer in the North West and one in two people in the UK born after 1960 will get cancer in their lifetime. Money raised at Race for Life enables scientists to find new ways to prevent, diagnose and treat 200 types of cancer.
Chief executive of sponsor Standard Life, Andy Curran, said: "We are extremely proud to have been chosen as the headline sponsor of Cancer Research UK's Race for Life. This sponsorship will help encourage participation and raise funds for life-saving research to help beat cancer."