Preston's Gaza peace service criticised for 'not condemning the deaths of innocent people'
A member of Preston's Windrush and Muslim community says that a peace service held in the city to reflect on the Israeli-Gaza conflict diluted discussion of the situation to such an extent that it became devoid of all meaning.
Watch more of our videos on Shots! 
and live on Freeview channel 276
Visit Shots! now
Isa Cole told the Local Democracy Reporting Service (LDRS) that in trying to dodge potentially divisive subjects, Preston City Council - which helped organise the multi-faith gathering last week - had created a hollow event that it had not been worth attending.
The service - staged in the foyer of the Guild Hall - saw representatives of faith groups from across the city come together to focus on the horror that has so far claimed the lives of around 1,400 Israelis and more than 8,000 Palestinians.
However, Isa says that the anodyne nature of the proceedings meant that not even the loss of civilian life was allowed to draw collective condemnation from those speaking.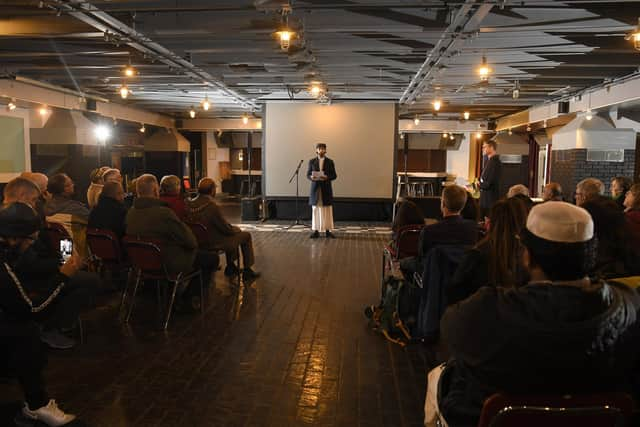 "I thought that regardless of people's political position or where they are in regards to the conflict itself, I expected that those of different faith backgrounds would have been able to agree on the stopping of innocent people being killed. But nothing like that was mentioned.
"I was told later that all the speakers were briefed about not talking about specifics. I expected to go there and hear voices talking about cessation of violence, [the need for] aid, the release of hostages and things like that - things that were meaningful and we could all come together around.
"But people standing together and saying that we want innocent people to stop being killed is the very minimum I expected to come out of it," explained Isa who works with Windrush Initiatives in Preston, but was attending the service in a private capacity.
He also felt that, in trying to fill the consequent void in content, the organisers had reached for a needless call to maintain peace on the streets of Preston and cohesion between the many diverse communities that live in the city.
"I just didn't think that it needed to be said, because it's a given. Yet when you raise that issue, people start saying: 'Oh, is there a problem in Preston, then?'
"It's like if there's no burglaries in an area and then somebody says, 'We're standing together against burglary.'. People start to wonder if there is an issue.
"The only places I'm hearing about unrest in the UK are the likes of GB News, the Daily Mail, any right-wing outlet. They're the ones that keep talking about this spilling out, whereas I've been on Palestinian demonstrations for nearly 30 years now and I've always walked side-by-side with Jewish people, atheists, people from loads of different backgrounds.
"From my perspective, the council found [the service] difficult to put together - and so that meant that they had to water down any of the areas that any party found problematic," added Isa.
The event was led by the Anglican Bishop of Blackburn, the Right Reverend Philip North, and included reflections, largely delivered by representatives of different religions on Preston's faith covenant.
Responding to the criticism, Preston City Council chief executive Adrian Philips said that the service was "designed to be something that could bring communities together, understanding the complexity and the great divergence of views".
He added: "These things inevitably have to focus on where people can meet and the council's particular concern is that in understanding and acknowledging the various strong views a range of communities have on the position in Israel/Gaza, people can demonstrate mutual respect - and that all communities can live peacefully and securely in Preston.
"Events in the Middle East have an impact in Preston and in the UK. Our focus was to have as much unity as possible, acknowledging people's differences, but trying to focus on what we had in common.
"Disagreement was not the purpose of the vigil. We said to everyone, all contributors, that it was on the basis [of being] non-political. If we went into individual communities' either justification for actions or attributing blame, then people just wouldn't have come - and it wasn't appropriate for that anyway,
"The only way we can support such an event is to have one that is focusing on what unites people and commiserating with those [in distress and] who are suffering from all communities," Mr. Philips said.