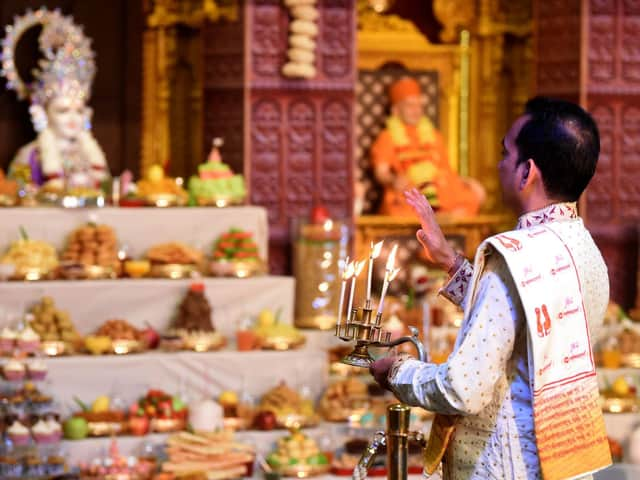 Diwali celebrations last year
Diwali is a five-day festival of lights, with the main day of celebrations falling on Saturday, November 14.
It is usually marked with firework displays, a children's party at the Gujarat Hindu Society in South Meadow Street, prayers, and an offering of food to the Gods.
But due to lockdown restrictions, new ways have had to be found to mark the occasion.
Ishwer Tailor, vice president of the Gujarat Hindu Society in Preston, said: "It's a very important time of year for all Hindu's, and it's right that we celebrate it.
"In Preston we made the decision not to close the temple, but to operate as best we could within the strict guidelines."
A team of volunteers are decorating the temple as it has been in previous years, and food will still be offered to the Gods, but instead of individuals each bringing things in from their homes, only one caterer now has the responsibility.
A YouTube firework display will be sent out to members, and only five people will be allowed in the temple at any time to conduct private prayers.
Mr Tailor said: "We want to make sure people are still able to pray, but as soon as that is done, they will be escorted out of the building. There will be no meet and greet like normal."
This year, there will be an online Zoom party between 3pm and 4.30pm for children to participate in at home, and youngsters are invited to drop off their Rangoli drawings for judging.
Diwali is celebrated by millions of Hindus, Sikhs and Jains across the world and is a festival of new beginnings and the triumph of good over evil, and light over darkness.