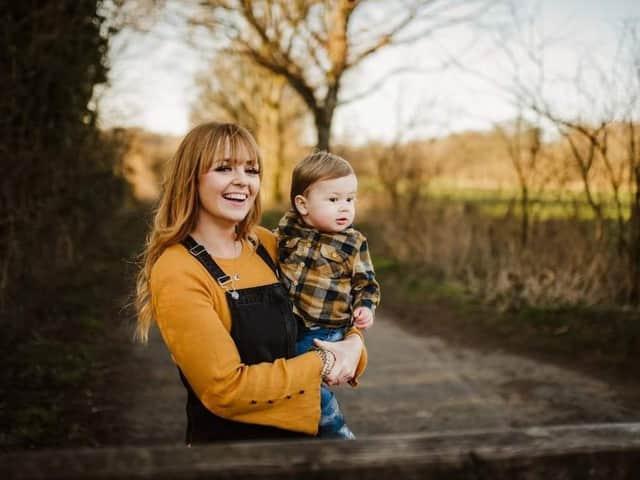 Hollie Dring found a lump when playing in bed with her 18-month-old son Theo
But the team behind Hollie's Dollies, which is raising money for Cancer Research UK's crucial breast cancer awareness, have absolutely smashed that.
So far the fundraising has topped £25,000, in just four weeks, and the money is still coming in with more events planned over the next few months.
Hollie Dring who is 34, was diagnosed with breast cancer earlier this year. She had a mastectomy in March and will start chemotherapy in the next few weeks followed by radiotherapy.
Mum to Theo, Hollie, from Fulwood, was determined to share her story and use it to try and raise awareness for women, and men, to check themselves regularly for lumps.
Her mum, Linda Dring, developed secondary breast cancer in 2012 before passing away at St Catherine's, a hospice specialising in end of life care where Hollie now works.
Now, with help from her family and best friends, Hollie's Dollies has gone from strength to strength with supporters rallying together to make a difference.
Friend Sam Jones said: "We have had such a huge response from local businesses, local residents and families. We want to make sure we are raising the profile and importance of checking yourself, both male and female. Hollie is 34 and healthy and this has taken us all by surprise."
Supporters have individually committed to running or walking 100km with the goal of raising funds which will go towards breast cancer research and to support Hollie.
"We began with a target of raising £1000 but the love, support, messages of hope that we've received has been overwhelming," said Sam.
Hollie is now waiting to start treatment following her surgery.
She said: "It's just overwhelming really how many business have supported us, it's made an impact. I've had a CT scan, so I am waiting for the results from that, and I have an appointment with the oncologist next week. I'm just praying I can start the treatment soon. I just want to start it and get on with it.
"It's four weeks since I had the surgery. I've felt helpless because I couldn't do anything but at least I can cuddle Theo now."
Future events include 'Finney Fayre' with the Tom Finney pub in Penwortham. This is planned for after June when all Covid-19 restrictions are due to be lifted.
The Tom Finney currently has an outside dining and drinking area and as such have bought blankets for patrons to use if they feel cold.
They're asking for a small donation for use of the blankets and these donations will go towards the fund. Last month local dad Martin Crowley ran 100km in a day – ten laps of 10km route round Penwortham. He raised £2,900 alone. And Local youngsters Hayden Cole, 13 and Riley Cole-Lewsley, 9, cycled the Guild Wheel with their grandad and raised £950.
In May, Heather McNair will be doing a skydive. She will be launching herself out of a plane at Flookburgh to raise even more funds Hollie's Dollies.
To donate, visit the Gofund me page and search for Hollie's Dollies www.gofundme.com