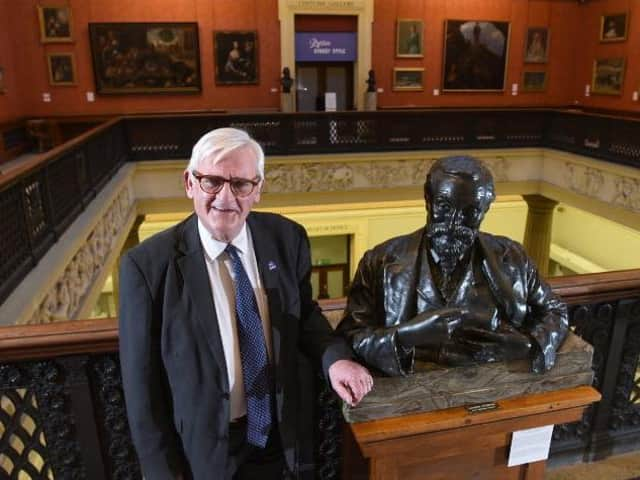 Howard has been a familiar face to many over the past three decades
Starting as a museum attendant in March 1990, after leaving a job with British Aerospace, Howard has now decided it is time for him to retire from the job that he calls 'brilliant and varied'.
He said: "I started working at the Harris after a change in direction from working for British Aerospace. I started out as an attendant, then became museum assistant and then a supervisor after a year.
"The job is brilliant and very varied, you are always dealing with the public and you are the first face they see when they come into the building. I was there to greet them, there for people's health and safety and the security of the building and the exhibits.
Part of Howard's job was looking after the security of the museum and its exhibits
"I have got to know so many people from working on the floor for 30 years. Sometimes, people recognise you and you just don't remember them."
He is known by many as the face of the Harris, greeting visitors on their arrival.
Howard describes the job as being 'like a walking miniature tourist information centre'.
Throughout his three decades working at the Market Square museum, Howard has met the Queen and travelled down to London in 1998 for a meeting with Prime Minister, Tony Blair.
The Harris has been home to Howard's job as a supervisor for 30 years
"Regional newspapers were given the opportunity to let their readers ask a question to the Prime Minister, so I wrote a letter asking about ageism and what they were doing for older people in the workforce at the time.
"I got a call from the Lancashire Post at the time, telling me my question had been chosen out of the hundreds of responses and I was given train tickets to London to meet with Tony Blair.
"We had a tour of the House of Commons, House of Lords and then had a brilliant day with the Prime Minister, where I got a chance to pose the questions to him."
Shortly after his return, Howard received the news that the New Deal 50+ had been introduced as part of the New Deal agreement of 1998, aimed at targeting the young unemployed and supporting them in their quest for employment.
Moving into a new chapter of his life, Howard says he will enjoy a few short months of retirement before taking on the next challenge.
He added: "As a people person, the job at the Harris was perfect for me. I love talking and helping people, and I had the opportunity to do that all day.
"I will be 66 in December and believe that in life, you have different volumes or chapters. I have reached a milestone having been there for 30 years and now it is time for the next part of my life.
"A few years ago I had different plans for what I wanted to do next, but I have decided the best approach is to take a few months to teach myself to learn to be retired. I will take the next few months learning that, and then after that will see where life takes me."