Penwortham consultant neurosurgeon given surprise tour of Parliament by Katherine Fletcher MP
A Penwortham consultant neurosurgeon was given a surprise tour of Parliament recently by South Ribble MP Katherine Fletcher after he had received his MBE from the King at Buckingham Palace.Professor Nihal Gurusinghe's wife Vicky organised the tour in secret with Katherine following the doctor's investiture in recognition of his contribution to charitable services in the New Year's Honours List.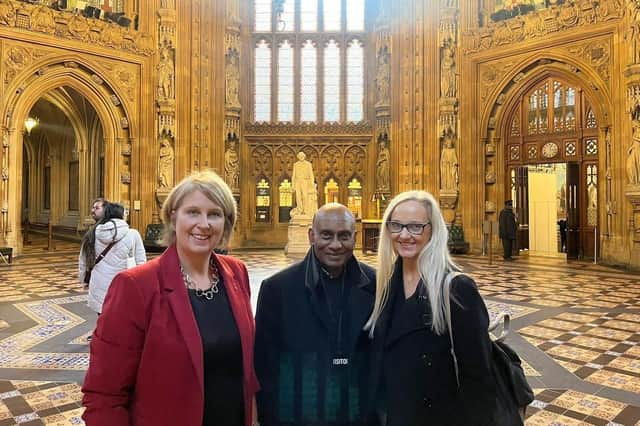 Professor Gurusinghe is the clinical lead for neuro-vascular conditions at the Lancashire Teaching Hospital NHS Trust. He was honoured for his work with charities, including the Sydney Driscoll Neuroscience Foundation he co-founded with local lawyer Andrew Ferguson.
"It was an extraordinary honour to be invited to Buckingham Palace and receive an MBE from King Charles," said Professor Gurusinghe
"My visit to the Parliament on the following day was also a very special experience. It was so interesting to see the House Commons and the House of Lords in session in the company of our local MP Katherine Fletcher.
"Most people have little knowledge about the work of their local MP and what a massive responsibility it is to represent the people. We were amazed that Katherine was driving to Longton from Westminster for a meeting in poor weather conditions as part of a normal working day."Thank you to Katherine for giving a part of her valuable time to make this a memorable day."Katherine said: "It was a great pleasure to show professor Nihal and Vicky around the Palace of Westminster and to get the chance to congratulate him on his well-deserved honour."He has made a huge difference to our community through his work and his charitable work. I am pleased he enjoyed his time with us and although I cannot compete with the King, I hope I added to a special time for a special person."