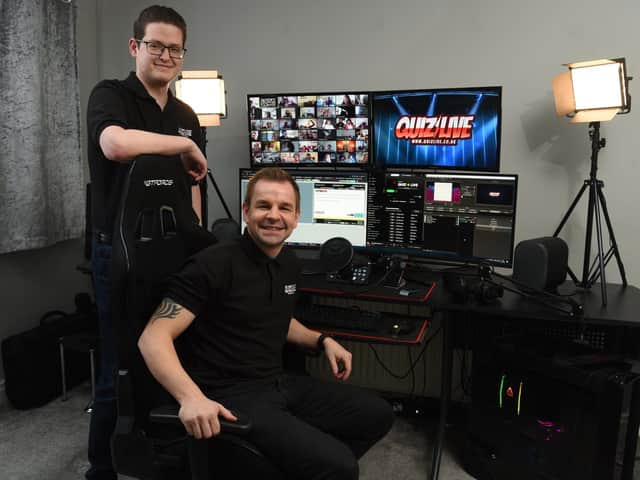 Damion Alton and Carl Matthews of Quiz Live
Question: How do you keep everyone in the family entertained during the long lockdowns we've endured this year?
Answer: Take part in a quiz.
That has been the entertainment lifeline thrown several times weekly by enterprising DJ, entertainer and computer shop owner Carl Matthews from Much Hoole, near Preston.
He first moved his pub quizzes online to keep continuity with his customers from venues such as The Poachers at Bamber Bridge and The Phantom Winger in Broughton, Preston - and discovered there was a real appetite for more.
He has signed up customers in America, Australia, India and Africa and, closer to home, in Scotland.
Now the 37 year old runs quizzes several times a week with a free quiz, especially suitable for families, on Wednesdays .
He said: "Basically I've been a Quiz Master for five years, a DJ and entertainer for 15 years, weddings, birthdays, children's parties Since lockdown there's been very little work when it comes to DJing, (with) all weddings postponed to 2022."
He decided to run the quizzes online, and working with a new business partner, Damion Alton, 32, they created Quiz Live.
He said: "People download an app to their smartphone and join me on Zoom. It's gone from strength to strength. We've had up to 100 teams from a round the world that have joined us for shows.
"Every Friday we have a themed quiz, The Greatest Showman was one of the most successful to date. "
He added "It brings people together to have a bit of fun. We play music and can see people singing and dancing. We see the smiles ... We're really focusing on mental health, especially during the second lockdown."
The former All Hallows High School pupil, who also has The Computer Shop at Lostock Hall, has pledged to continue some of the quizzes even after lockdown ends.
Carl stressed that single entrants are also welcome to the quizzes and sometimes friends in different parts of the country join. He said: "When it's the fastest answer we switch the camera - now teams have their own celebration they've created themselves,like a dance - it's fantastic!"
* The midweek quiz is free. For other quizzes the charge is £3.5 per family for the first 20 families and £5 for others.
** The Lancashire Post is more reliant than ever on you taking out a digital subscription to support our journalism. For unlimited access to Lancashire news and information online, you can subscribe here