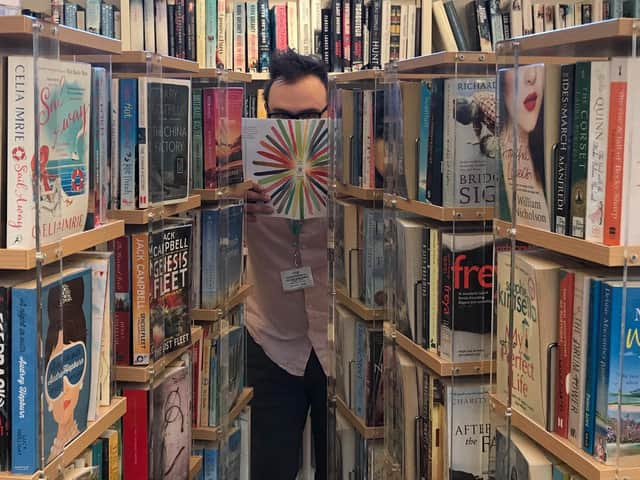 With libraries out of bounds the service is reminding readers of its Digital Library offer
But it has also opened some new doors as organisations have been forced to adapt to change.
Lancashire's library service and the Lancashire Archives have been shut to the public, but both services have sought timely ways to be innovative.
These have ranged from online book and lego clubs to the creation of a Covid-19 archive.
Robin Crawshaw and his team have been looking for new ways for the library service to connect with readers
Many of these free initiatives could outlive the lockdown and extend the reach of both services.
One which will certainly have longevity is the county archive's creation of its new archive on the Coronavirus pandemic.
This is where you, the reader, can help. The service wants the public to share their experiences of lockdown and how it has affected their lives by sending in written, audio or video accounts and sharing photos, flyers, posters and other materials. Archive staff are asking Lancastrians to seize the moment, before it slips from memory.
Senior Archivist David Tilsley stressed that simply recording a message about your experience on your phone and sharing it is one option, emailing a message is another.
Paddington visited the online lego club
He said: "In terms of world history it's such a big thing. We probably don't appreciate quite how big now."
He reminds the public that the archive's collections of older documents were contemporaneous in their day and while we are used to turning to the archives for material from the past, our experiences now are history in the making: "There's lots of information about the official response to the pandemic but we want to get an insight into how it's affecting people's everyday lives."
David says even now memories of the impact of those first weeks of lockdown may be slipping away, He said: "Think of everyday lives, These are the things that don't necessarily get recorded. We're the only people doing it for Lancashire. It's about making sure Lancashire's voice is heard."
David is also keen that the archive heeds the voice of children. He said: "They've been more severely affected than most...In 100 years' time people will be looking back at this pandemic and see how it was for them."
David Tilsley wants the public to contribute to the Lancashire Archives Covid 19 pandemic archive collection
Teachers are also welcome to ask pupils to prepare accounts for the archives.
Aware that the pandemic is going to affect education for some time to come David said: "The other thing we've been doing is investigating and putting together a lot more resources for teachers to use with primary school children."
Queries about the archive's records can also still be sent in online and staff say they will do their best to help.
Staff have been busy reorganising the public visiting area at the Bow Lane archives in Preston to ensure that when the time comes to reopen social distancing can be correctly observed. David predicts the service will reopen on an appointments only basis for people wishing to visit. He said: "Enquiries are still coming in from people across the county and across the world as they always have done. "
Lego with a topical theme from the online lego club
He cited the example of a man who had inherited a teapot inscribed: "To Mrs Thomas Chadwick from her class – Hapton 1882".
David would usually have advised the enquirer to come and look at school records. He said: "We've been going the extra mile and doing a bit of research for people. I actually found the entry in the Hapton school log book completed by his great grandmother on her first day at work. He was overjoyed by that. It would appear she gave up work at the school when she got married so I suspect the teapot was from a Sunday school class later on in the same area."
He continued: "We also try and encourage creative use of the archives. "
Archivist Victoria McCann has gathered together photographic images of documents which it is hoped will stimulate creative writing along the theme escape the lockdown.
Meanwhile in the library service where reading groups can no longer meet, the service reinvented those meetings with Twitter and Faebook discussions online in the Lunch Break Book Club about books the groups would have been discussing. Similarly the library lego groups now post photos of their work online.
Reading Development Manager Robin Crawshaw said: "In a way it's forced innovation. We've had to really think differently about how we can continue our service but in a very different format.
"We already had a strong digital offer. We had to use that as the backbone of what we're doing."
The fortnightly Wednesday Lunch Break Book Club meetings were launched in April with an invitation to join a discussion on an audiobook recording (available from the library's digital service) of 'The Memory' by Lucy Dawson. About 30 people responded and Robin reports that there was: "a good discussion . It was a bit of an experiment. It was just on Twitter."
This was followed by a lunch time session on 'The Familiars' by Stacey Hall – which was available from the library both as an e-Audio and as an e-Book.
'The Familiars' is one of the service's "campaign titles" which are on the Always Available list on its digital reading service BorrowBox. That list has now been extended.
Robin said: "We're now starting to think if it's the kind of thing we want to continue when everything gets back to normal."
It could also, he acknowledges, be a way of connecting with people who live in more remote areas or those who cannot get to libraries, even if there is one nearby.
A Family Book Club to interest younger readers was also recently launched on Facebook, starting with Roald Dahl's 'Matilda' complete with a quiz and signposts to to other resources. This Thursday (June 4) Dahl's book 'James and The Giant Peach' will be under scrutiny. The book is downloadable as an e-Book or audiobook from BorrowBox.
The annual reading challenge for young people will have a new look this year with the service teaming up with the Reading Agency to offer a digital platform for youngsters to take part in the annual Summer Reading Challenge. Lancashire's own 2020 challenge, with associated library resources, is being put on hold until next year.
Another development has been the launch of a new app RBdigital comics which like BorrowBox gives online access to reading material – this time comics and graphic novels.
Rbdigital magazines, also available to library users online, offers free access to numerous magazines ranging from Radio Times to Hello, New Scientist and The Economist.
Robin said: "It's a really good collection and a really good service for us to be able to offer people
"It's completely free to the customer and they are able to access a really good selection of mainstream magazines and read them for free online."
The service's image archive Red Rose collections contains images of Lancashire past and present.
While those who are missing some of the extra events hosted by the library service – in particular the Spot On rural touring network productions, can benefit from the way the Spot On partnership has been developed with Spot On's special online storytelling events .
Robin said: "Sharing stories with people is a big part of what we do."
Spot On usually brings events ranging from drama to music with UK and international performers to libraries and was asked if it could help get something online. Now there are two performances every week – one for adults and one for children. The adults is at 7pm on Thursday and the children's at 3pm on Tuesdays. The performances, which last around 10 minutes, go out on Spot On's Facebook and YouTube channel.
The Lancashire Music Service has also brought a performance online with the Lancashire Youth Brass Band teaming up remotely to perform the tune 'Slaidburn' online.
Robin added: "We are obviously trying to stay in touch with people and let them know what's going on. We are trying to be very active on social media..We are still trying to do as much as we can and produce campaigns as we normally do. The positives – we've had to show innovation and I think that's something we've always been quite good at. We've been proud of our digital offer. We've just had to change it slightly. We've just found new ways of working, Everyone is doing the same. It's really good to see people have just got on with it."
• For more information about library and archive services see the Your Library at Home, Digital Library and Lancashire Archives pages on lancashire.gov.uk or visit @lancspublib on Twitter and @lancslibraries on Facebook See also #LancsLegoClub and #LibrariesFromHome and #LunchBreakBookClub