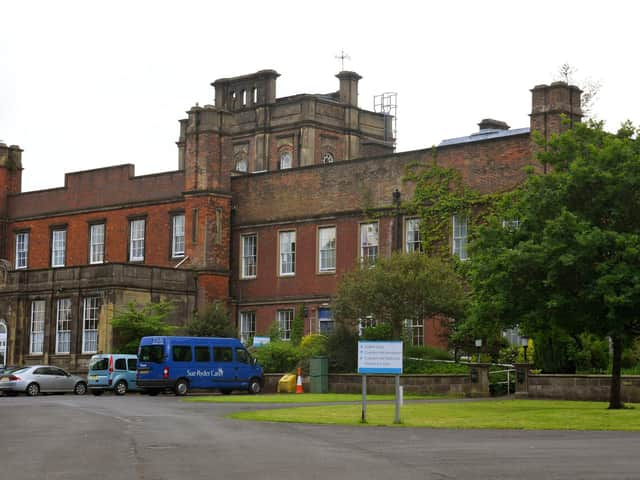 Cuerden Hall when it was used by Sue Ryder
The hall, off Shady Lane, Bamber Bridge, dates back to 1717, and was used until April as a Sue Ryder care home, providing palliative, neurological, and bereavement support.
The charity now operates from a £12m state-of-the-art centre in Fulwood, Preston, having stated that the Hall was "not fit for purpose".
The hall was put on sale with a guide price of £1.5m last year, but until now, no details of any sale have been made public.
Security fencing now surrounds the Hall site
Questions started to be asked after around 400m of large metal fencing appeared around the hall grounds on Friday, October 23. Local walkers have complained that walking routes used for many years have now been closed off.
The hall's Wikipedia page has also been updated to say that Manchester-based property developer Colin Shenton had bought the hall to renovate as his personal home.
In 2011 he and his partner Gareth Harold took on Gunby Hall in Lincolnshire and turned that into their home.
A Sue Ryder spokesman today told the Lancashire Post: "We have exchanged contracts for the sale of Cuerden Hall. As the property is now unoccupied it needs to be kept secure and comply with the very specific conditions of the insurance policy.
"We had security guards in place but the cost was unsustainable for the charity and so the alternative suggested by the insurance company was fencing and CCTV, which has now been installed."
An email from the Sue Ryder legal team to a resident of Cuerden says that the exchange of contracts on the Hall is not expected for another 12 months.
Sarah Elsy, Cuerden Parish Councillor, said: "I am disappointed that there is now no access to the usual footpaths and routes to Cuerden Valley and that the sudden appearance of miles of Heras Fencing with Security guards is over the top.
"Whilst it is important to protect the Hall, it is sad that both Sue Ryder and the new owner have chosen to do this and that these unsightly fences will be here, in this beautiful woodland, for at least, the next 12 months."
Simon Thorpe, manager of the adjacent Cuerden Valley Park, said that Trustees were not consulted about the fencing.
He said: "I can understand that an empty Grade II* listed building needs to be protected from vandalism and unwanted attention but at this stage we don't know if the fencing is temporary, or will become permanent. Trustees have no immediate concerns but are monitoring the situation."
The Shenton Group, run by Colin Shenton, has been approached for comment.