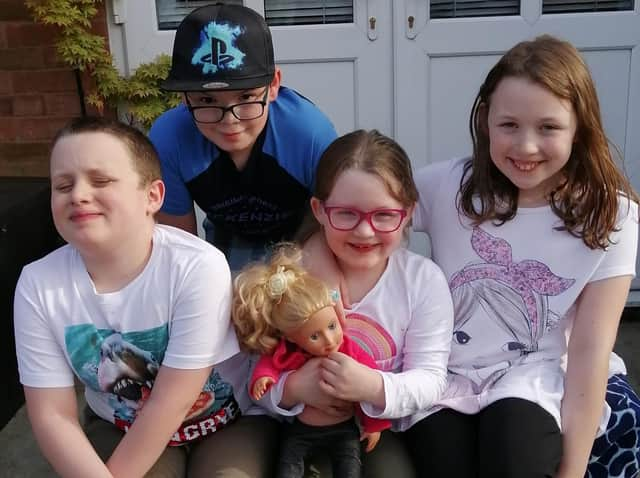 Siblings Joshua, Thomas, Emily and Megan Blackwell have been getting creative and helping vulnerable people during lock-down.
Two months after the first social distancing measures were brought in following the coronavirus outbreak, we asked three Post readers to tell us their experiences of daily life under lock-down - and how it has changed their routines and outlook on life.
Mum-of-four Nicola Blackwell says home-schooling her four children has been tough but loves spending more quality time with them.
The 30-year-old, who lives in Lostock Hall, said: "Two of my children have special needs and it was mayhem at first, as we couldn't get into a routine. There were lots of tears and tantrums.
"But then, after the first two and a half weeks, we established a routine of school work, baking, and arts and crafts. They're loving it now."
She added: "Home-schooling has been hard as I'm not a teacher and I've four children, all of different ages. It's like teaching four different classes and we've only one computer.
"Josh and Emily are on a par with their learning, so I've married their work together. Then I let the others do arts and craft while I sit with one of them doing SATS work. At the end, we all do an activity together."
To relax in the evenings, the family enjoys hand-painting, snack and movie nights, or star-gazing outside on the trampoline.
"They're all fascinated with the stars. They love it and it's free," said Nicola.
"The kids love spending time at home, doing stuff they wouldn't normally do. You have to find a purpose and get on with it. There's nothing else you can do.
"We're taking more notice of nature, doing scavenger hunts in the garden and looking for bugs.
"I love it now. I think it's great. I now massively appreciate things that I didn't before.
"The kids are calmer, happier and more grateful. If I say no, they're more accepting of the answer."
Joshua, who is eight-years-old and has ADHD, ODD and complex behavioural needs, has been making weekly food parcels for struggling families, with the help of his big brother Thomas. Josh has also baked 45 cakes for key workers and nursing homes.
Megan (9) has drawn 22 pictures, and has been doing arts and crafts with her six-year-old sister Emily, who also has ADHD.
But life hasn't always been easy for the family in the past two months, with Nicola saying: "One of the worst things about lock-down has been trying to get food. I'm a single mum but I can't take four children to the shops, so I've had to get their dad to come round and babysit them while I go shopping."
Despite a few bumps in the road, the family is enjoying the lock-down experience overall.
Nicola added: "I'll be happy for them when they go back to school because they'll get to see their friends again, but I'll be sad because I'll miss them."