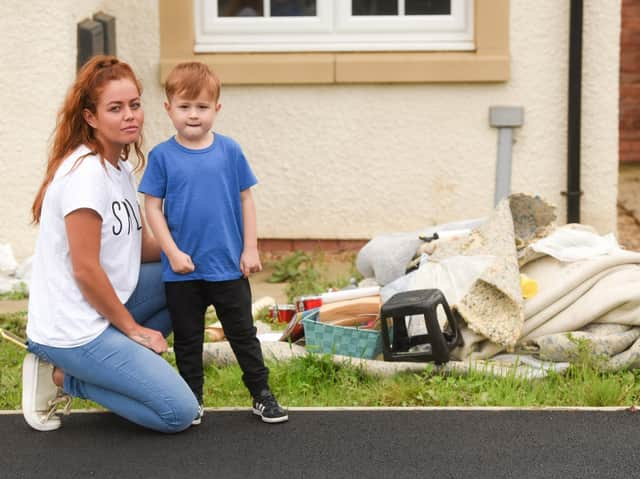 Leanne Bishop, with son Rowan, inspects the damage at her Kirkham home
Leanne Bishop and son Rowan have had to move in with family in Lytham after their house off Blackpool Road, Kirkham was left uninhabitable in the aftermath of last week's torrential rains.
The 26-year-old says she woke up in the early hours of last Tuesday to find the entire ground floor of her home in Brookwood Drive flooded.
"The rain had caused a pond situated at the top of my estate to overflow, and that caused a yet another flash flood down my street," said Leanne. "As my house is at the bottom of the estate, it created a fish bowl effect leaving my house nine inches deep in water. It caused damage to my carpets, washing machine and sofas, which I'm sure can't be repaired."
The flood horror for Leanne comes just weeks after she was made redundant from her job as a nursery nurse after a spell of furlough.
She said: "I am a single mother with very little income and this has left me and my son homeless and emotionally distraught.
"I already suffer with anxiety and depression and my son suffers from severe asthma and eczema.
"This is the second time it has happened in my time at the house and the plaster on the walls is still wet and is now damp and smelling. I'm in touch with the housing association which owns the house over what happens next."
The Blackpool Road area of Kirkham was among the parts of Fylde worst hit by the floods.
But a spokesman for Fylde Council said officers had determined there was "no requirement to activate the emergency plan with regards to the provision of temporary shelter".
Fylde MP Mark Menzies has pledged to do all he can to help. He said: "I am not pleased to see some of the areas worst affected are the same areas in Fylde I have raised with the flood authorities in the past."