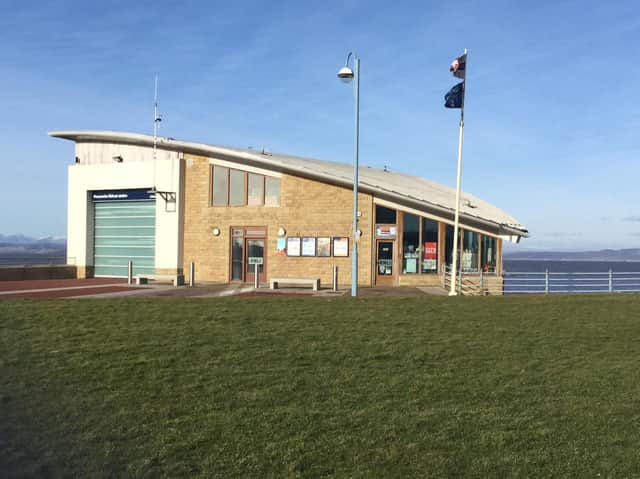 Morecambe RNLI hovercraft station which also houses a shop manned entirely by volunteers.
Last year, shops at the hovercraft station and the old lifeboat station in Morecambe raised nearly £80,000 for RNLI funds which help the lifeboat and hovercraft carry out rescues.
But this year, due to lockdowns and not having enough volunteers to man the shops, vital funds haven't been raised.
Lynda Harling, 70, from Bare, who was a volunteer at the lifeboat shop for five weeks before it closed, said: "The tide in Morecambe is horrendous and there are quicksands as well.
The old Morecambe lifeboat station which also houses a shop manned entirely by volunteers.
"We do need the lifeboat crews in Morecambe. The bay needs a hovercraft.
"Volunteering is certainly raising money for the RNLI crews and we need them especially in Morecambe.
"If people realise the shops are struggling because of lack of volunteers they might come forward.
"You have to apply to volunteer at the RNLI head office and then you are put on a three month probationary period. Whatever you can fit in they are happy with.
RNLI crews need vital funds raised by volunteers in the Morecambe lifeboat shops to carry out lifesaving rescues in the bay.
"I did an hour and a half before I went dancing. It's a commitment but when you are retired there are lots of other things you can do.
"With the lockdown starting in March, the shops lost money then as well.
"Each little bit mounts up. When I was volunteering in the shop, I got people popping in to give us donations as well, someone gave me a £5 donation and people are quite happy to do that, it's a shame.
"If people are made aware of the situation, they might do something to help.
"At this time of year we sell Christmas cards as well and we can't even do that. All the money goes towards the same thing, funds for the RNLI."
Frank Maunder, manager of the lifeboat shop at Morecambe hovercraft station said: "I've been working as the manager at the shop in the hovercraft station for five years and last year the shop made £41,000 towards RNLI funds. The shop at the old lifeboat station in Morecambe made £36,000 last year, so between them we made nearly £80,000 towards RNLI funds.
"This year we shut in March due to lockdown and we shut again three weeks ago as we don't have enough volunteers to man the shops.
"A lot of people don't realise the shop at the hovercraft station is there as it is only accessible from the promenade.
"We need two volunteers for each shift, seven days a week, so we need at least 10 volunteers for the hovercraft shop alone.
"We do two shifts of three hours in each shop.
"We sell RNLI related goods, such as trinkets, badges, teabags, coffee, sweets, biscuits, keyrings etc.
"Volunteering at the shop has been a lifeline for me as being at home is driving me up the wall.
"At the moment, although the shops are shut during lockdown, we have five volunteers, all elderly and pensioners.
"We just need someone to do three hour shifts if they can to help out.
"When the shops are open again, please pop in and ask about volunteering if you can."
Ryan Preece, RNLI community manager said: "As a charity, the RNLI relies on donations and the generosity of the public to help keep our lifesaving services going. "The RNLI's shops are a vital part of that effort, and they of course could not operate without the skill and commitment of our shop volunteers.
"The RNLI are looking for new volunteers to join our shop team at Morecambe lifeboat station.
"This vital team helps the charity save lives at sea by promoting the work of the RNLI within the local community and tourist population, raising awareness of safety messages and generating lifesaving funds.
"No previous retail experience is required as full training will be provided.
"If you are an outgoing person who enjoys working with people and is looking for a role that gives something back to your local community, please contact the team for more information."