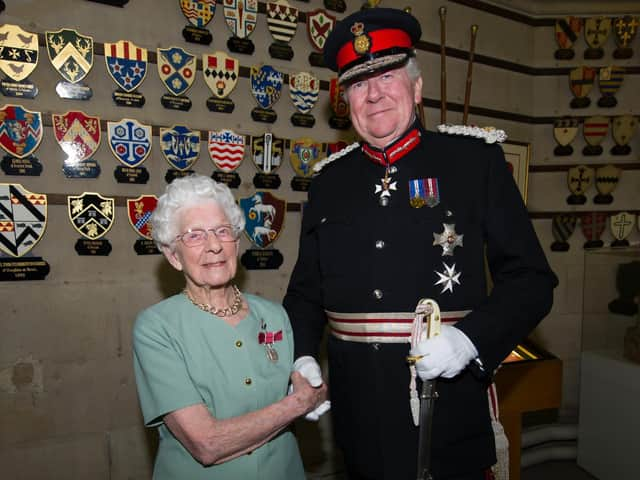 BEM (Medallist of the Order of the British Empire) Honours ceremony at Lancaster Castle Margaret Rigby, from Chorley, who received a medal for contributing a lifetime of continuous service to Girl Guiding
Margaret, who became a Girl Guide in 1927 and has continued to serve the movement for many decades after, was just three weeks short of her 106th birthday when she passed away.
One of her many nieces, Mary James, said: " Margaret had lived all her life in Chorley and was very well known and loved in many circles and in a good state of health for almost all of her life.
"She was very much loved in guiding circles locally and nationally and was awarded the BEM for services to guiding.
"She also unveiled the Suffragettes plaque at the town hall."
Margaret was a founder member of St Mary's company in Chorley in November 1927.
A guide and a ranger in the 1920s and 30s, after World War 2 she became a secretary and leader of various guiding groups before serving in the Trefoil Guild - adult who give practical, financial and moral support to the guiding and scouting movement.
Margaret was awarded her BEM at a garden party at Buckingham Palace, shortly after her 100th birthday.
Margaret, formerly of Devonshire Court, Chorley, was widowed in 1992 when husband Thomas died after being married for 50 years.
Margaret died peacefully on May 8.
A graveside service for family only, due to the coronavirus, was held at St Bede's RC Church, Clayton-le-Woods, on Thursday, May 14.