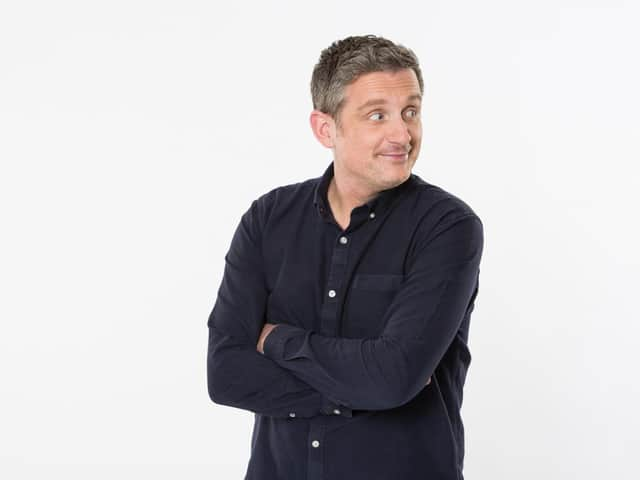 Graham Liver
Never the loudest or the most boisterous, he found he could 'sort of make people laugh a bit' in secondary school, all of which doesn't exactly point in big neon lights to a career in radio talking to tens of thousands of people every morning.
But there's always been something special about radio for BBC Radio Lancashire's longest-serving breakfast presenter.
It was at the age of 18 and with a course in television and radio production at the University of Salford beckoning that Graham dashed off messages to every radio station in the North of England in the hope of a job offer. Radio Cumbria came back to him with some good news and so the Lancaster-born Mr Liver headed north to start his radio journey.
Graham with Sir Lindsay Hoyle, now-Speaker of the House (left), interviewing Ribble Valley MP Nigel Evans
All of a sudden, the nerves were gone.
"For some reason, when I was getting ready to do my first show for Radio Cumbria as an 18-year-old, I wasn't nervous," says Graham. "I just remember thinking 'yeah, I can do this'. It's always good to have that nervous energy to use to help you prepare for a show, but - and I don't mean this to make me sound dead cocky - I've never been that nervous about being on air.
"I think that confidence comes from the fact that I try to be as natural as possible, but it can be hard to find your authentic voice initially," he adds. "Listening back to archive stuff, I found a sports bulletin I did in 1999 and I sound so jocky and unnatural! I suppose I've changed with age because, if you try to fake it in radio, you get found out really quickly."
Graham grew up listening to Radio Lancashire, which turned 50 last week. Just as his future-colleague Gerald Jackson had done in the '60s, Graham set up his own radio station in his bedroom as a kid and went on to do work experience at Red Rose Radio in Preston and at The Bay (now Heart North Lancashire & Cumbria) in Lancaster whilst still at school.
Graham Liver with Mike Stevens on the scene of the seagull hostage situation in Knott End
In fact, Gerald can even remember a time when a wide-eyed 14-year-old Graham came into the Radio Lancashire studios on Darwen Street in Blackburn for a tour.
"I had that love for radio from a very young age," explains Graham, now 45. "My granddad and dad used to listen to Jack Holden doing the matches at Ewood Park so, at that age, all I wanted to do was to commentate on Rovers for Radio Lancashire.
"Radio is intimate and I just loved how local Radio Lancashire was - they were talking about places I knew, so I just felt that connection," he adds. "I grew up listening to the likes of Gerald, Fletcher Richardson, and Joe Wilson, so it's always been Radio Lancashire for me. It's always just felt like my radio station."
After working at Radio Cumbria as a sports reporter for four years, Graham's childhood dream job came up - that of Blackburn Rovers commentator for Radio Lancashire. He applied and was successful, becoming the voice of Rovers coverage for two years before he started to branch out into other programming with lunchtime and afternoon news and talk shows.
The Mayor of Chorley, Coun Doreen Dickinson, lays on a bed dragged through the streets of Chorley to Preston by members of BBC Radio Lancashire team in 2016
"I knew I could talk about the new full-back or whatever, so initially when I first moved into doing news, it was a case of 'am I up to this?' but I've loved it," says Graham. "As long as you're across something, you sound like you know what you're talking about, and you're doing it in your own style, then you're fine.
"It's when you're not prepared that you're found out.
"Local radio gives the audience such a unique experience," he continues. "One of the best broadcasters ever was Terry Wogan and he always said to approach the job as if you were broadcasting to one person, which is what makes radio that most intimate form of media and still the best in my eyes.
"I've done quite a bit of telly with North West Tonight, and there's nothing natural about TV, but with radio we go on an organic journey."
Graham at the Preston Caribbean Carnival
Crossing the Pennines for a four-year stint with BBC Radio Leeds in the mid-2000s, Graham came back to the Red Rose County in 2010 to take over Radio Lancashire's breakfast show - a programme which he still spearheads to this day alongside his producer Leanne Bayes.
"Everyday, we prepare and try to make the show an interesting mix of live elements, callers, and pre-recorded stuff, but it's great when a listener comes on and it takes us in a completely different direction to where we'd anticipated," Graham says. "It's never boring and that's just brilliant.
"The best thing about Radio Lancashire is the listeners," he adds. "They don't take themselves too seriously, they know if you're being fake, there's that warmth and humour, and people aren't afraid to take the mickey out of themselves. We've got brilliant listeners."
That magical concoction of brilliant listeners and a scope to explore the slightly more light-hearted side of news has resulted in some truly unique radio moments for Graham over the years, too.
"We once had a call from someone who said they were being held hostage by a seagull in Knott End," he says. "Thankfully, our call-taker got him on air because a lot of people would've just put the phone down. This chap called Roy said a load of seagulls had nested above his front door and had babies, so they were very protective. Every time he left his front door, he was being dive-bombed by seagulls.
"It was magnificent; he said 'you probably think I'm being a bit stupid, but I can't leave the house', so we turned up with pest control and put this massive gazebo up to protect him," Graham continues. "The story was picked up by all the nationals and Roy was on Sky News and Australian TV but, in his time of crisis, he called Radio Lancashire.
"To be able to do slightly more trivial things is brilliant; it's the most fun work environment you could imagine," Graham says. "Covering a patch like Lancashire is fantastic and to kick-off the day for a load of people, knowing how busy their routines are, is a privilege and I'm so lucky to be doing something I've always wanted to do.
"Having done the breakfast show for 11 years, there were two or three years in the middle there where, personally, I was a bit miserable. But being on air was my happy place."
Over the past 12 months or so as the Covid-19 pandemic has gripped the UK and the world, Graham says that local radio's role in being there for people and providing them with trusted information has been invaluable.
"This last year has been the most important broadcasting I've ever done," he says simply. "People think they've never been as well-informed, but just getting your news off Facebook or Twitter just results in people being stuck in echo-chambers, whereas we try to hear from all sides and do things in a nice way and not be horrible about it.
"We have a laugh, too - that lighter side of things is so important from a mental health point of view," Graham adds. "We want to be good company for people because we live where they live, we know the places they go, we know what they're going through. It goes to show that radio still has a special place in people's hearts and working over the past 12 months has really helped me as well."
From avid listener to beloved stalwart, it's safe to say that Graham's life has been thoroughly infused with his work with and sheer love for BBC Radio Lancashire.
"I'm dead proud to work for Radio Lancashire," he says. "I've loved it from day one."