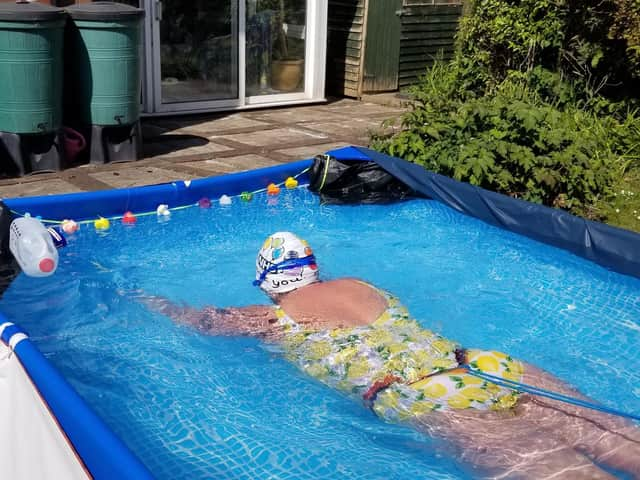 Audrey Hellen swimming in her back garden in Longton
Audrey, 58, of Great Tunstead, Longton, has set up a pool at her home and is swimming the equivalent of the channel at the rate of a mile a day, over 42 days.
And the mother-of-one is relishing the chance to exercise because she has spent months undergoing intensive treatment for potentially fatal breast cancer.
The six months of chemotherapy, followed by a month of radiotherapy, were gruelling and tough and certainly took their toll on Audrey, who has worked as a non-medical anaesthetist at Blackpool Victoria Hospital since 2007.
Audrey Hellen is now recovering
But the keen swimmer, who was diagnosed with the illness a year ago, says there is light at the end of the tunnel and she wants to encourage others who are going through the same treatment.
She is now in remission and as part of her exercise challenge, she is raising money for the Blackpool charity Hug in a Bag, which aims to bring some comfort for breast cancer patients in Blackpool, Wyre and Fylde by providing lovely hessian bags including make-up, hand creme, cooling aloe vera gel, healing stones and a diary.
Audrey said: "It's a wonderful charity and it relies on donations so I am trying to raise as much as I can.
"Breast cancer is a horrible illness and anything that brings some comfort to those going through it deserves support.
"During my chemotherapy I was sick, I had heartburn, joint pain and, lethargy, and I lost all my hair.
"What helped me was setting targets and challenges, having something to aim for."
Audrey was diagnosed last year when she had a lump in her breast and it turned out to be malignant
At the time Audrey, who has swum lakes and taken part in 10 mile swims in the past, had signed up to take part in a relayed swim of the English channel for charity.
She had to pull out of that challenge, but once she started to recover this year, she decided to splash out on a rigid-framed pool for her back garden, measuring three metres by two metres and 75 centimetres deep.
She is now the equivalent of just five miles from home and is due to finish the swim on Tuesday.
Anyone who wants to donate to the cause, which has already raised £520 so far, can visit the fundraising page at www.justgiving.com/crowdfunding/audrey-hellen