Longridge care home gets crafty for Goosnargh scarecrow festival
The Goosnargh and Whittington Whitsuntide Festival have introduced a scarecrow festival this year to keep the community spirit alive through lockdown.
Thursday, 28th May 2020, 3:45 pm
Updated
Thursday, 28th May 2020, 4:03 pm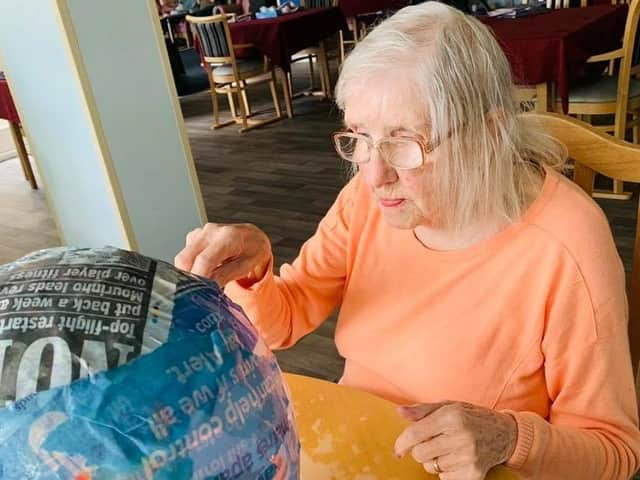 Residents at Alston View helped create this years scarecrow entry.
Residents at the Alston View care home spent two weeks creating a scarecrow look-a-like of Florence Nightingale that has been entered into the popular local event.
In their theme, 'Year of the Nurse', the Longridge home considered the NHS staff who have been supporting the country in fighting the Coronavirus pandemic.
Lauren Leach, Activity Coordinator at Alston View on Fell Brow, said the residential home wanted to do something to become involved with the community.
The plaque designed by residents at Alston View.
"At Goosnargh, there's normally a yearly field day but unfortunately that has been cancelled because of lockdown, so we wanted to take part in the scarecrow festival," she said.
"We have recently celebrated the birthday of Florence Nightingale, so we thought it would be fun to use her as our theme for the scarecrow.
"The residents made the head out of paper mâché which was messy, but they all enjoyed it. They painted the head and got involved with drawing pictures and discussing the life of Florence Nightingale."
The festival, on Saturday May 30, will see judges take to the streets of Goosnargh to determine which house made the most impressive scarecrow.
The Longridge care home created a Florence Nightingale look-a-like
Lauren, who lives at Goosnargh, is displaying the scarecrow, embodied to look like the popular 1800s nurse, at the front of her house on Whittingham Lane.
"The festival has been keeping the residents and local people busy. It's been fun to see the community get involved during this difficult time," she said.
"The residents have really enjoyed the process and are excited to see if they'll win or not. We've tried to do it over two weeks because we were busy with other events like VE Day celebrations."
The festival will take place this Saturday, with professional photographers capturing the locals efforts at the themed scarecrows.
Details about the festival can be found at www.whitfestival.com.