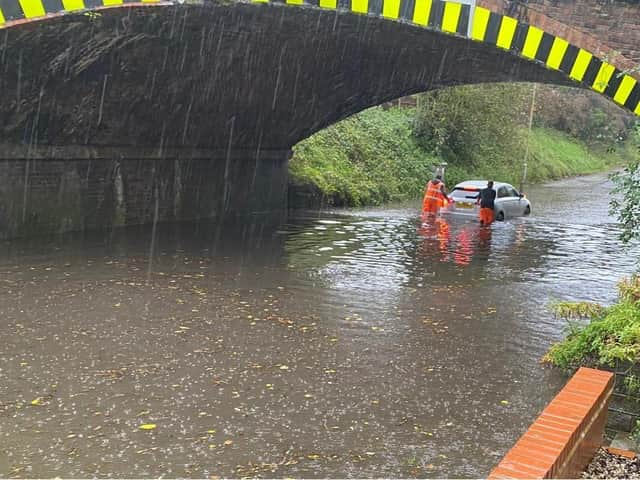 Samantha Jerram's car stuck in flooding under the bridge in Croston Road in Lostock Hall.
James Jerram (22) says he is thankful that the police and fire and rescue services were able to pull Penwortham woman Samantha to safety when her car was caught in heavy rain under the bridge in Croston Road in Lostock around 2pm yesterday.
A local driver also allowed 26-year-old Samantha Jerram, who has cerebral palsy, to rest in his car while fire services retrieved her wheelchair from her vehicle.
James said: "It must have been freezing and she must have felt horrible. She had eyes on her so she felt embarrassed.
James Jerram (right) with his sister Samantha Jerram (middle) and her fiance Dave Wells (second right).
"I'm really thankful to the police, fire and rescue service and the guy who helped her. My sister is really happy they were there for her."
Samantha was driving under the bridge when a large vehicle went past on the other side, causing a wave of water to flood her electrics.
James added: "Being disabled is what panicked her the most. She struggled with mobility and it would have been hard to get out of the car herself."