Leyland community group making care packs for key workers and vulnerable South Ribble people
A Leyland community group has delivered 462 face masks to care homes in one day and made more than 800 care packs for both front line workers and vulnerable people.
Friday, 1st May 2020, 7:00 am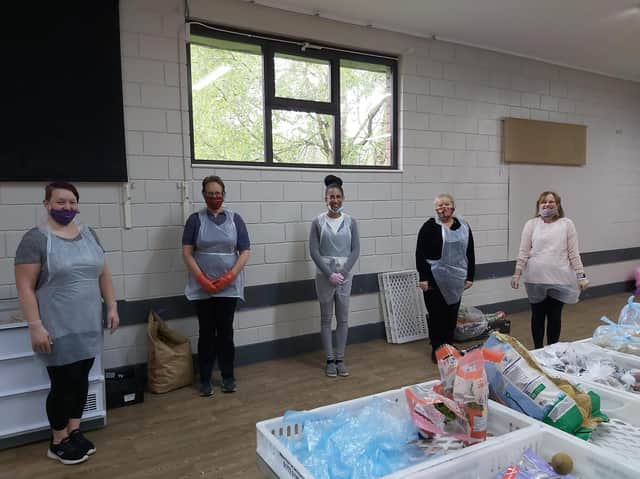 Loretta Whiteley (second left) and Sophie Wilding (middle) with volunteers at Moss Side Community Centre.
Sophie Wilding and Loretta Whiteley have been leading a team of around eight volunteers in putting together and handing out the food and hygiene parcels at ​Moss Side Community Centre in Leyland for the past month.
They have been designed for South Ribble people who are shielding from the coronavirus at home, or are working in essential services like transport, the NHS or care homes.
Loretta said: "It's hard work but well worth it. At times like these, seeing strength in the community is a wonderful thing. We know people are genuinely struggling and are perhaps too proud to ask for help.
Food collected by the Moss Side Community Centre team to go in care packs for vulnerable people and key workers.
"The main priority for us is to make sure the community is fed and feels safe."
She added: "People have been offering to volunteer and it's just shown how much the community comes together in hard times.
"I don't think anybody could stand by and watch people struggling and not take action."
When the community centre was closed, Loretta and the Moss Side Community Forum decided to use the space as a "pop-up top-up" offering items to keep people ticking over, like tinned goods, frozen food, tea and coffee, and washing powder. Dr Oetker has donated numerous pizzas while Glover's Bakery provided its remaining stock.
Moss Side Community Centre.
They joined forces with secretary Sophie, who runs a Facebook group called Community Network & Outreach Service Leyland & Surrounding as a means to co-ordinate care packages for front line workers, which comprise PPE, treats and toiletries.
She began making six to eight parcels a day from her home with her son.
Sophie, who was a carer for 15 years, said: "I have two best mates who work in Covid-19 wards at Royal Preston Hospital.
"I also have tons of friends who are carers and many feel they are being missed out."
The volunteers handed out packs to hospital staff for the first two weeks, before helping carers and bus drivers.
But now the team are making 20 to 30 packs a day for vulnerable people, and delivered 462 face masks to care homes on Monday.
If you would like to make a donation, or confidentially refer someone who is struggling, please contact Sophie on Community Network & Outreach Service Leyland & Surrounding on Facebook or the community centre on 01772 624126