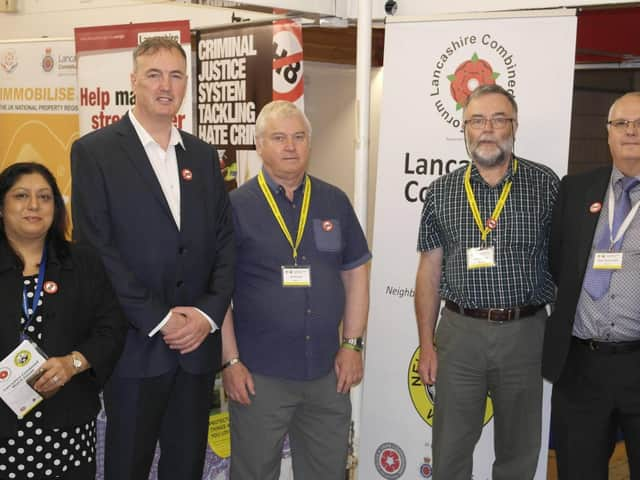 Lancashire's Police and Crime Commissioner Clive Grunshaw (second from left) and Colm Flaherty (second from right) at the Neighbourhood Watch promotion day
"The Neighbourhood Watch is really about neighbourliness," says Colm Flaherty, Secretary of the Lancashire Combined Watch Forum, which is the Neighbourhood Watch Association for Lancashire. "It started off focused on crime-prevention, which gave it a negative image of being for curtain-twitchers and nosey neighbours, but it's become more about community."
While their objectives still centre around reducing crime, reducing the fear of crime, and improving people's quality of life by making communities safer, the Neighbourhood Watch is increasingly becoming a fruitful avenue for people to engender a spirit of cohesion. And that's a powerful thing.
"NW promotes people doing the little things to help one another - it's about knowing your neighbour, being neighbourly, and being active in the community," says Colm, who has been involved for 20 years after his wife became a coordinator and encouraged him to take part too. "We're not prescriptive; it's an overarching movement rather than an organisation.
The Neighbourhood Watch stall at their promotion day
"We're also seeing a demographic change - it was always the sort of thing people took on after they'd retired, but with new housing schemes bringing in a newer generation, people are seeing NW as a way of instilling that community spirit," adds Colm, 70, who's retired. "So long as a community wants a watch - you can't just hoist it upon people - people can do what they want with their group."
Itself a registered charity, the Lancashire Combined Watch Forum's primary objective is to support local NWs whilst working with Lancashire's Police and Crime Commissioner, Lancashire Constabulary, and LanPAC (Lancashire Partnership Against Crime).
Through community initiatives, it supports councils and police by advocating for neighbourly cohesion with their aim of fostering a spirit of togetherness in local areas which goes some way to ensuring that nobody feels afraid, unsafe, vulnerable, or isolated.
And, during Covid, their reach has been important, too.
Colm Flaherty (below lectern to the right) at a meeting
"NW is extremely positive in that it gets people working together, which is very beneficial, especially in the pandemic," says Colm, who lives in Kirkham. "Communities have become more insular since the days when people lived in terraced houses and everybody knew everybody else, but people coming out for the Clap For Our Carers initiative was almost like a wartime thing and led to people meeting others on their street.
"While we can't go out to new watch groups to explain what it's all about and welcome them because of Covid, we're still quite busy; I've had two queries about new groups today already," he continues. "And, during Covid, a lot of watches have been getting involved with other initiatives, which gives people a really valuable focal point."
One a larger scale, Neighbourhood Watch has also coordinated a Community Action Response launched by Eden Project Communities to highlight the importance of people thinking of others, considering their actions, reaching out to their neighbours through things such as online groups, and of sharing accurate advice and info during the pandemic.
They're also helping raise awareness of scams such as people door-knocking and claiming to be testing for Covid only to carry out robberies, people offering help with shopping only to take the money, and cybercrime, whilst also partnering with other local organisations to identify those at risk and offer them support.
A far cry from a bunch of curtain-twitchers to say the least.
"We're just a group of volunteers who decided that if we wanted NW to keep going, we needed to do it," says Colm. "We try to encourage the community side of things wherever we can.
"That's really rewarding."