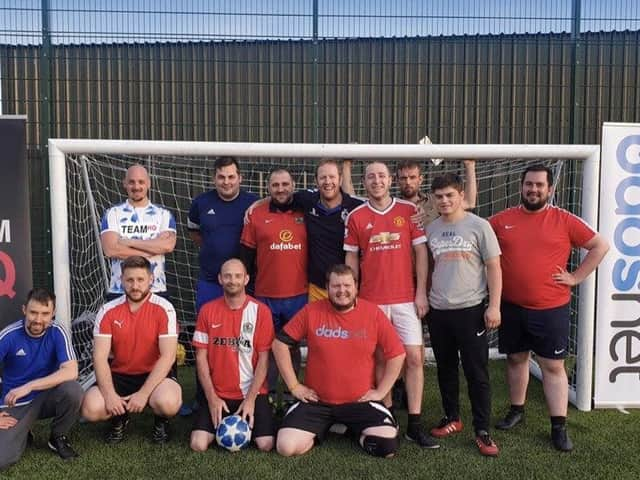 A DadsNet Kickabout session in action
Graham is talking about Lancashire DadsNet Kickabout.
After his daughter Chloe was born in 2016, Graham was looking for some practical parenting advice online when he stumbled across the international DadsNet group. He was immediately bowled over by the warmth on show from the welcoming community of fathers and so was quickly inspired to start Lancashire DadsNet that year. Following that, the Kickabout group was founded in 2018.
"I wanted to start getting out and running a bit more because I felt I was putting on weight and getting a bit unfit," says the 40-year-old Graham of his decision to start Kickabout. "I just thought that footie would be a really good way of getting people involved. It's just a casual kickabout; it's not full-on competetive, it's all about turning up and having a bit of fun.
"You don't have to be able to run or play to a ridiculously high standard, it's open to everyone," adds Graham, who originally comes from Darwen, lives in Preston, and is the Dadsnet Local Leader for Lancashire. "It's just great banter and when we play it's all about enjoying being out and about and socialising."
Now with kickabout sessions in Kirkham, Preston, Blackburn, and Lancaster, the initiative enables fathers from across the county to not only join a community which encourages them to open up, be more vulnerable, ask questions, and help one another, but also give dads the chance to get fitter. Physical exercise also pays dividends when it comes to any anxiety, stress, and mental health issues, as well.
The physical and mental benefits engendered by the DadsNet community also go hand-in-hand with the hugely supportive online DadsNet community, which has been building ever since Al Ferguson founded the group as a forum for new dads to share tips in 2013.
Now one of the go-to online parenting resources, DadsNet gives fathers a supportive safe space in which to ask questions and advice.
And - prior to lockdown, that is - to play football, of course.
"Since sports have started to come back, loads of people have been sat watching at home going 'I can do that', so we're all raring to go!" says Graham. "We get one lad who comes up t the sessions from St Helens and he says he's been having withdrawal from not being able to play. He's really missing the craic we have.
"When we play, it's all about having fun," adds Graham, who works in student accomodation. "Loads of the dads have been saying 'let's just go and have a game on the park' because they were so keen to get back playing, but we had to make sure we were doing everything properly in line with regulations, so we're just waiting on guidance."
As well as working with Maternity Voices Partnerships, Better Births, and the Sharoe Green NHS maternity ward, Lancashire DadsNet Kickabout is also sponsored by Team HQ, who help keep subs low which therefore allows them to play at Mill Farm Sports Village. Team HQ also help out to cover the cost of balls and bibs, and their support has proved invaluable.
"We all go for a cheeky pint after the game and it's really nice to have that social side of things as well - some people come for the game, some for the drink, and some for both," explains Graham. "It's really positive for people's mental health to have that chance to take part in friendly exercise as well as having that get-together as well.
"People are made to feel part of a community as well as getting a little fitter," says Graham. "They get double the benefits."