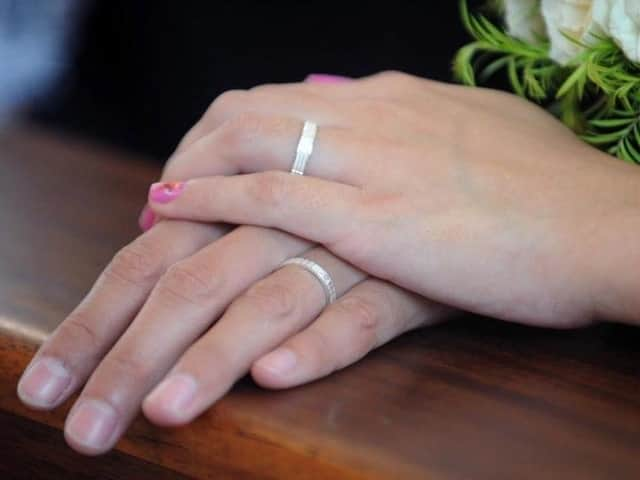 Couples have been fighting for the right to have their humanist wedding recognised legally
Humanist celebrants in Lancashire had backed a legal challenge by six couples against the Government.
Humanist weddings - a non-religious ceremony conducted by a humanist celebrant - are legally recognised in Scotland and Northern Ireland, but in England and Wales, couples who have a humanist wedding must also have a separate civil marriage for their marriage to be legally recognised, even if it is not what they want.
More than 1,000 couples have to go through the formalities twice, leading to financial strain and distress over the state failing to recognise their humanist wedding as their 'real' one.
A humanist wedding differs from a civil wedding in that it is entirely personalised and reflective of the humanist beliefs and values of the couple.
Parliament voted to give the Government the power to give legal recognition to humanist marriages in 2013 but no Government has used it.
Since then, more than 6,000 couples have been denied legal recognition for their humanist wedding.
Mrs Justice Eady DBE ruled that, in light of that, the Secretary of State for Justice 'cannot… simply sit on his hands' and do nothing.
However, given that the Government is currently giving the matter consideration in the form of a review into marriage law by the Law Commission, she ruled the Government's refusal to "act immediately" can be justified at this time.
She said: "Although I may deprecate the delay that has occurred since 2015, I cannot ignore the fact that there is currently an on-going review of the law of marriage in this country.'
In the court hearing, the Government had argued couples had no right to humanist marriages, on the basis that humanist marriages are not sufficiently connected to humanism to merit legal protection.
They also argued that English law already provides for humanist marriages by way of civil marriage.
But in her decision the judge rejected these arguments, saying that there is an intimate link between couples' beliefs and their choice of a humanist ceremony.
She said that attention must now turn to the Government's promised review of marriage law as the way that this discrimination must be addressed.
The Government said in court that a consultation would be published in early September by the Law Commission.