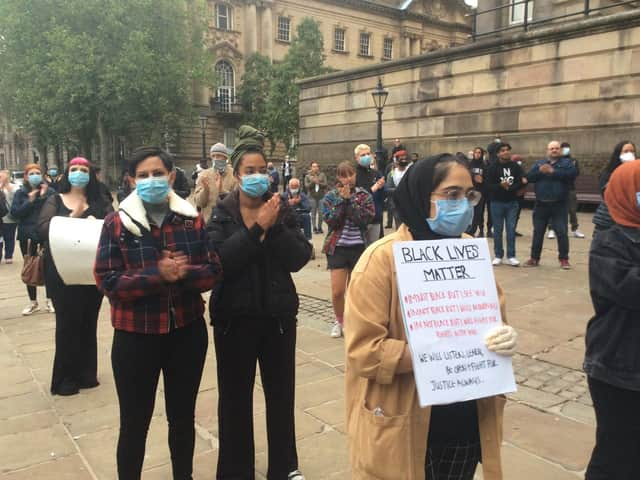 People socially distanced and held signs, showing support for Black Lives Matter
The impromptu event, organised by Glenda Andrew, from Fulwood and Sakeena Muncey, saw hundreds of people hold placards and make powerful speeches in honour of George Floyd, 46, who died on May 25 in Minneapolis whilst detained by police.
As co-founder of the Preston Windrush Generation group, Glenda wanted to raise awareness of racial issues that remain present in the UK, highlighting the reactions of people across the world.
"I felt that people were shocked with what they have seen happen to George Floyd. The protest was for people to stand up in response to that and say that it was disgusting and that more justice is needed," said Glenda, 57.
"It has taken almost two weeks to eventually get that justice. In hindsight, those people who have been victimised by the police and society in the UK also need to see that justice is seen to be done and not just talked about.
"We produced the flyers and planned the protest, which saw hundreds of people from across Preston come to the Harris museum, which was lit up in purple."
At the protest, speakers called for an end to racial prejudice and discrimination here in the UK as people brought attention to injustices they had suffered because of their race.
The Harris and Market was illuminated purple as the City Council showed its support for those protesting in the city and across the world.
All races, young and old, showed their support on June 3.
Today, Preston City Council flew the flag on the Town Hall at half mast as an "act of solidarity with George Floyd and those protesting racism and injustice worldwide".
The protest welcomes the need for change, as recent figures released by the Ministry of Justice in March, show that black people living in Lancashire are five times more likely to be stopped by officers than white people.
According to these figures, 11 black Lancashire residents per 1,000 were stopped and searched by police between April 2018 and March 2019 compared to two white people.
"In the challenging times we live in, it is important that people can share their voice and stories. I have family members and friends who have sadly lost people in these last few days, so it is special to be able to bring the black community together," said Glenda.
"I hope the Harris keeps their lights purple until justice is done in America, the UK, and here in Lancashire."
Labour Councillor Pav Akhtar, who represents the Plungington Ward, was present at the protest on June 3, commenting that he was "proud of the multi-racial and multi-faith crowd" who took part in the gathering at the Harris Museum, and that he felt "honoured".
He said: "I was proud to participate in Preston's first Black Lives Matter protest alongside hundreds of Prestonians from all faiths and races who came together against the violent murder of George Floyd.
"In my speech to those who had gathered, I described the well-documented reality of many African, Arab, Asian and Caribbean heritage people in the UK who experience discrimination in accessing and using services like health, education, politics, policing, as well as in civil society and the workplace.
NHS nurse, Takhsin Akhtar, joined the protest to raise awareness of inequality in the justice system and healthcare. Photo: Pav Akhtar
"What the recent Public Health England report into disproportionately high Black and Asian deaths from Coronavirus has shown us that long-standing and systemic racism and inequality remains rampant. We can't disconnect the issue of Black people's human rights as a political issue. As a community we must move from words of commitment to positive deeds that challenge the injustices at every turn. That must involve Black and Asian people in the design and delivery of services. Preston's diversity means that we are well placed to do this."
The peaceful remembrance gathering asked those who attended to wear masks and try to adhere to the social distancing rules imposed as a result of the Covid-19 pandemic.
As the coming months typically celebrate the Windrush carnival, organised by the Preston Windrush Generation organisation, Glenda believes the timing of the protest was both significant and important.
"It is significant that this is taking place as we come up to the usual carnival time. Although, of course, all lives do matter, it is the black lives who are the ones at the forefront. Our protest was important and a chance to give those people a voice.
"So many people who have been racially attacked couldn't speak out when they wanted to, because they felt so overwhelmed at the protest by the support from the Preston community.
"It was a historical moment for those individuals to see members of the white community come out to show their support and bring people together. People are feeling the pain and trying to understand the spirit that has been taken out people like George Floyd.
"It's about the love of the community and the love for your fellow human being."
Chief constables from police forces across the UK have spoken out in response to Floyd's death and the protests, such as the one last night in Preston.
Their statement on the Lancashire Constabulary website read: "We stand alongside all those across the globe who are appalled and horrified by the way George Floyd lost his life. Justice and accountability should follow.
"We are also appalled to see the violence and damage that has happened in so many US cities since then. Our hearts go out to all those affected by these terrible events and hope that peace and order will soon be restored.
"In the UK we have a long established tradition of policing by consent, working in communities to prevent crime and solve problems.
"Officers are trained to use force proportionately, lawfully and only when absolutely necessary. We strive to continuously learn and improve.
"We will tackle bias, racism or discrimination wherever we find it."
Glenda, alongside other members of Preston's Windrush community are planning another peaceful protest in the coming weeks, and are continuing with their weekly zoom conferences, with further information available on their website prestonwindrush.co.uk.
She commented: "We are all connected. This an important healing process for the world because things have to change. People can not be quiet and sit and be on the sidelines."