Insect-eating plants are back at Winmarleigh Moss for the first time in 100 years
A field of carnivorous plants are back in Lancashire for the first time in 100 years.
Watch more of our videos on Shots! 
and live on Freeview channel 276
Visit Shots! now
Carnivorous sundews plants disappeared from Winmarleigh Moss near Garstang after habitat destruction killed them off more than 100 years ago.
But the insect-eating plants have been brough back thanks to £30,000 funding from the Lancashire Environment Fund, Whitecroft Lighting and Natural England, Lancashire Wildlife Trust along with 17,500 other missing plants species, including the oblong-leaved sundew,bog asphodel and white beak sedge.
It may come as a surprise to many that there are carnivorous plants native to the UK, but in fact we have at least 11 species of these insect eating wonders, most of which inhabit our peatlands. However, due to habitat destruction, many of these rarities are now missing from the lands where they once thrived.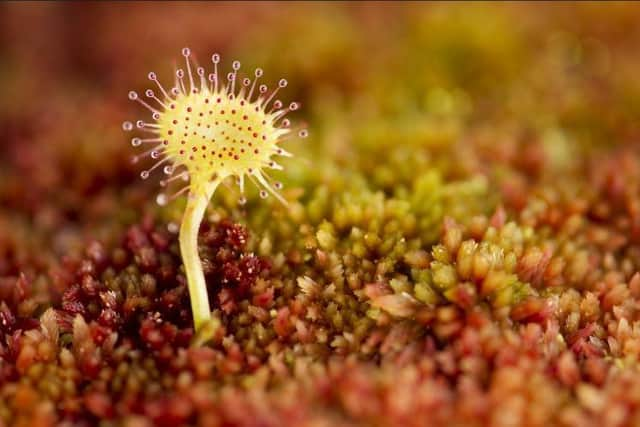 And Winmarleigh Moss Site of Special Scientific Interest is no exception. Subject to historic drainage so that the land could be managed for game bird shooting, the naturally boggy peatland could no longer offer the peaty paradise for these plants, and they eventually died out.
Helen Earnshaw, Lancashire Wildlife Trust Peatlands Programme Project Officer, said: "It is exciting to see bog asphodel, white beak sedge, greater sundew and oblong-leaved sundew back on Winmarleigh Moss, as they have been absent for 100 years.
These plants are only found on peatlands, and it is important that we do all we can to ensure that they establish and thrive here to add to the biodiversity of the site".
How were they reintroduced?
The first stage was to clear the area of unwanted scrub vegetation as it outcompetes and hinders the growth of native peatland plants. Once this was cleared, staff were then able to start getting the plants in the ground. This was done by specialist contractors and volunteers, planting by hand to keep disturbance of the bog to a minimum.
Winmarleigh Moss is also surrounded by a number of other peatlands (Gull Moss, Cockerham Moss and Birch House Farm) which are currently undergoing restoration, and it is hoped that in time the new plants will naturally spread and colonise these areas too.